Turk 182!
(1985)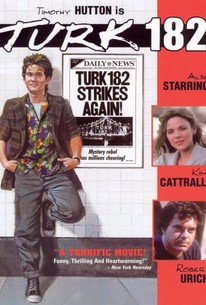 Movie Info
When an injured fireman is denied his pension by government bureaucrats, his younger brother decides to launch a public protest by covering the city with graffiti. His efforts soon land him at the center of a media circus in this comedy-drama.
Critic Reviews for Turk 182!
Audience Reviews for Turk 182!
½
I understood the whole idea in this film about government not taking care of the people in our country, but after watching all these crazy antics Jimmy does in the movie it doesn't seem as important as him becoming a folk hero. So I think this movie was starting out good, but kinda got lost, so it's not the best.
I first saw "Turk 182!" (yes, its title really has an exclamation point in it) a few years back, and I thought it was a great movie. Now that I've grown a little since then and matured even more, I wanted to watch it again to see if it was as great as I remembered it.....and it was. Terry "Turk" Lynch (Robert Urich) is a New York City fireman that was injured while saving a little girl from a burning building. After many pleads for help from Terry's younger brother, James (Timothy Hutton), all the leaders of the city refuse to give Terry the benefits that he needs to live and to recover from his accident. James Lynch is so upset about his brother not getting what he deserves, that he becomes a hero in his own way, by using graffiti to create certain messages (you'll have to watch the movie to find out what they are and what they mean) all over the city. Whether it's on a living horse, a famous bridge, or a "graffiti proof" train, James sure knows how to use graffiti as an art. "Turk 182!" doesn't have any spectacular special effects or a tremendously engrossing plot or script, so if you're looking for that, you will be very disappointed. It's just a basic story about a brother trying to give his older brother some due, and to let everybody else know that he is a hero. For years I've enjoyed watching "Turk 182!," and I'm pretty sure I'll always like it. It baffles me that this film seems to be so invisible to movie fans. It's a great film that deserves more attention than it has gotten so far. If you like great movies, I definitely recommend purchasing "Turk 182!" NOTE: That was my Amazon review from the year 2001. Underrated movie in my book indeed.
Jason Owens
Super Reviewer
½
From Bob Clark, the man who gave us Porky's, Porky's II, Rhinestone, and A Christmas Story (talk about running the gamut) comes the story of Jimmy Lynch, a young man who tries to get justice for his firefighter brother when he's injured trying to rescue a little girl from a burning building, while off duty. He wages a graffiti war against the mayor of New York City, who may have covered up for a corrupt political ally. In doing so, he becomes a folk hero to the people of the city. Timothy Hutton stars as Jimmy, aka "Turk 182". Kim Cattrall is a social worker who joins in his fight. Robert Urich co-stars as Jimmy's injured brother, who's so disturbed over his ordeal that actaully attempts suicide. Peter Falk and Darren McGavin are the detectives hot on Jimmy's trail. It may sound heavy handed, but it's actually lighter than it sounds. Hutton makes Jimmy extremely likeable, and you can't help but root for him. Clark creates a real feel for NYC by making use of many landmarks including Giants Stadium and the Queensboro Bridge. A good time movie.
RJ MacReady
Super Reviewer
Turk 182! Quotes
| | |
| --- | --- |
| Subway Cop: | eat fresh! |
| Subway Cop: | Eat fresh! |
| | |
| --- | --- |
| Mayor Tyler: | all your base are belong to us. |
| Mayor Tyler: | All your base are belong to us. |