Elimination Game (Turkey Shoot)
(2014)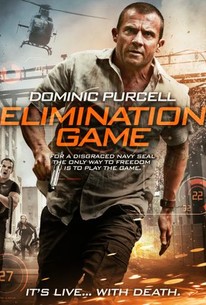 Elimination Game (Turkey Shoot) Photos
Movie Info
In the wake of a shocking civilian massacre in a foreign war zone, disgraced Navy SEAL Rick Tyler is sentenced to rot in a maximum security military prison until he is offered the opportunity to put his life on the line to win his freedom. A one-man force of nature, Tyler will have to take-on and take-down some of the world's most ruthless killers in some of the world's most brutal locations to win the game, obtain his freedom and find out why he was set up. The question is, can he accomplish all of this before Game On is Game Over?
Critic Reviews for Elimination Game (Turkey Shoot)
Audience Reviews for Elimination Game (Turkey Shoot)
I didn't know they bothered filming remakes on this low of a budget. Dominic Purcell picks up the lead in this entirely unrelated update of the 1982 cult Ozploitation film "Escape 2000/Blood Camp Thatcher/Turkey Shoot". Marvel at the movie's ability to make you scream "For once could they just let Australian actors play bloody Australians!". Try to decide if the film's use of "found-footage" to get around budget constraints is genius or insulting. And by the time it's over you too will wish that, like Purcell's heroic character, you had gunshot-inflicted-amnesia too. Taken literally that's probably unfair, I mean I wouldn't *actually* rather be shot than watch Turkey Shoot, I mean come on, it's not Ouija.
Elimination Game (Turkey Shoot) Quotes
There are no approved quotes yet for this movie.