Turner and Hooch
(1989)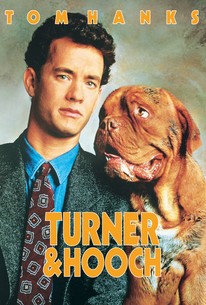 TOMATOMETER
AUDIENCE SCORE
Critic Consensus: Tom Hanks makes Turner and Hooch more entertaining than it might look on paper, but ultimately, this is still a deeply silly comedy about a cop and a canine.
Movie Info
One by-product of two consecutive Oscar wins is that Tom Hanks no longer has to appear in such potboilers as Turner and Hooch. Hanks plays Turner, a meticulously groomed, excruciatingly well-organized detective working in a small California coastal town. When local "character" Amos Reed (John McIntire) is murdered by drug smugglers, the only witness is Reed's slobbery, smelly mutt, Hooch. You're way ahead of us, folks: Turner, who despises dogs in general and Hooch in particular, is compelled to put the cantankerous dog up as his house guest. Also easily predictable is the fact that Turner and Hooch will, by the next-to-last reel, become boon companions. To its credit, the film has an abundance of laughs and thrills...but, gee, that ending! Neither terrific nor terrible, Turner and Hooch is a pleasant time-filler; we do wish, however, that more time had been spent on the budding romance between Turner and veterinarian Emily Carson (Mare Winningham).
Critic Reviews for Turner and Hooch
Audience Reviews for Turner and Hooch
"This is not your room." I remember some of these caninecop movies from the 80's. This one was probably the best of the bunch. The film also features a young Tom Hanks, who wasn't at that time a big star. That would happen after some years... The film starts as a typical 80's cop movie with a saxophone tune on the background when the lead character is being introduced. It's immediately obvious that Hanks' character is a good, not your typical cop who is something of a neat freak. The first time Hooch, a super drooler mastiff, was introduced, I became instantly infatuated with the dog. It looked somewhat of a Predator on four legs. The slow motion sequence, with its snout going all over... Excellent. The story is a typical cop movie that has its moments but most of the movie concentrates on the building relationship between Turner and Hooch. Tom Hanks shows his comedic talents but most of the scenes are robbed by the dog. The scene where he shows the house to the dog, the stakeout scene, the end scene. All of these scenes were perfect examples on how a good dog 'actor' can make an average movie worth a look. Some scenes, especially in the end may give tears of laughter and sadness to all who admire these cute furry pooches. As an end statement, I must confess that I'm a dog owner. I just love these "man's best friend's". I've always had dogs and I can understand the reactions of Hanks character, that occurred throughout the movie. You simply can't find a more trust worthy animal.
Funny movie about a cop and his side kick dog called Hooch, whom he needs to help him identify a murderer.
Candy Rose
Super Reviewer
Tom Hanks is hillarious in this movie!!!!!!!
Cassie Hill
Super Reviewer