Tusk
(2014)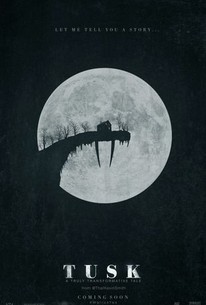 TOMATOMETER
AUDIENCE SCORE
Critic Consensus: Tusk is pleasantly ridiculous and charmingly self-deprecating, but that isn't enough to compensate for its thin, overstretched story.
Movie Info
Red State director Kevin Smith takes the helm for this horror film starring Justin Long as a podcaster who is targeted by a sadistic killer while attempting to land an interview with a misanthropic adventurer (Michael Parks). Genesis Rodriguez and Haley Joel Osment co-star. ~ Jason Buchanan, Rovi
News & Interviews for Tusk
Audience Reviews for Tusk
Basically felt like a Human Centipede remake with a Walrus, still. GOLD. loved how the movie came about as well, Justin Long is an A Grade actor, will watch any-all of his films.
Shawn Montague
Super Reviewer
½
Kevin Smith is known primarily for his crass but literate stoner comedies. When he made 'Red State', a decidedly uneven but temerarious horror movie about religious fanaticism; it felt like a radical change-of-pace with the rough edges intact. 'Tusk', however, is a macabre treat played to spellbinding hilt by Michael Parks who speaks eloquently like a poet laureate about his seafaring adventures with Ernest Hemingway. Underneath that anecdotal expertise though, he is deeply deranged and our first glimpse is a scenery-chewing rendition of "Itsy Bitsy Spider" and it gouges us to the core. The premise is inherently far-fetched but the sight of Justin Long sutured into an anthropomorphic-patchwork walrus suit (which resembles Belial from 'Basket Case') is profoundly disturbing simultaneously. Long doesn't mollify Wallace into anything other than an insolent hipster who cackles callously at a youtube video of a teenager who accidentally amputates his left leg with a samurai sword. Later in the film, a cameo from Johnny Depp is liberating for both the sublime character actor inside of Depp (who has been sinking in wretched tentpole pictures) and the helter-skelter mood. While the investigative aspects are run-of-the-mill (a pencil-to-sketchpad trick is explicitly plagiarized from 'The Big Lebowski'), the rest of 'Tusk' is a voraciously unsettling body-horror movie that will startle many of Smith's lapsed fans back into the fold.
Cory Taylor
Super Reviewer
You've never seen a Kevin Smith film quite like this. Even after the man's first foray into the horror genre with the flawed but tonally ambitious Red State, I never would have expected the man best known for lewd discussions over pop-culture minutia to take note of The Human Centipede and more or less say, "Hey, let me try." After a short self-imposed retirement, it seems like Smith is creatively reinvigorated, crafting even more boutique films that no one else would make, and Tusk is a prime example of this. Whether or not the world needs a film where a man is kidnapped and physically transformed into a walrus is a personal question you'll have to answer in your own space. Wallace Bryton (Justin Long) is an egotistical podcaster who is something akin to the mean-spirited version of Ira Glass. He travels around the country interviewing strange people for their strange stories, all to relate to his travel-phobic pal and podcast co-host, Teddy (Haley Joel Osment, all grown up). The two guys then crack jokes and make fun of these pathetic weirdos and losers. While in Canada, Wallace finds a curious posting in a men's room from a man named Howard Howe (Michael Parks) seeking a companion to share his lifetime of stories with. Wallace jumps at the chance, enters Howard's secluded home, and listens as the older, wheelchair-bound eccentric spins several yarns, notably a tale where he was lost at sea. His only "friend" was a walrus who he credits with helping to save his life. He misses his seafaring friend, and Howard has secretly drugged Wallace with the intent or transforming him into a human-walrus composite. If you're a fan of bonkers body horror and demented humor, then Tusk just might be a short but potently nasty little treat for you. If you've seen enough similar genre entries you'll likely be guessing several of the plot turns before they happen, like the tea being laced with a chemical or Howard holding back his real and fiendish capabilities. However, there are moments that simply defy prediction, especially the last half of the movie where Smith doubles down on the madness of executing his premise. The tone is rather uneven and can prove to be a hindrance, with the first half more dramatic and the second half more absurd comedy. Smith impresses early on by slowly teasing the reveals: the duplicitous Howard, the revelation of missing parts, the full-on transformation. The knowing camerawork and long, creepy conversations build suspense even when we stop and realize how ridiculous this entire movie can be. And that's not an insult but a compliment, even a saving grace when the movie takes a few too many unwieldy detours (more on that later). With a premise this bizarre, and from a director in such unknown territory as Smith has waded, I, dear reader, was laughing throughout. Tonally, it felt like Smith was acknowledging the silliness of his movie but still being true to genre. There are some genuinely creepy and unsettling moments sprinkled throughout. The practical makeup gore can at times make skin look like a crumply raincoat. The final image of Long as a human walrus is both ludicrous and a horrifying sight you cannot un-see. Much of the movie is a series of conversations and monologues featuring Long (Dodegball, He's Just Not That Into You) and Parks (Kil Bill). Hell, even Genesis Rodriguez (Man on a Ledge) gets a monologue; she's Wallace's put upon girlfriend who doesn't like the man he's become with fame. It's a rather rote part undeserving of a performance as good as Rodriguez delivers. She must have thought, "Here's my acting reel for the next few years; look casting directors, I can do much more than look hot." Back to the central duo, Long and Parks. The film's greatest assets are these actors and the movie is at its best when they share the screen. After his skin-crawling turn as a bile-spewing zealot in Red State, I expected Parks to be unhinged and frightening, which he is in spades. The man's calm demeanor is especially eerie. When he breaks into openly mocking his victims, adopting Wallace's howling cry, is another moment that bounces from creepy to funny and back to creepy again. It's a performance pattern that Parks nimbly dances throughout the film. Honestly, this may be the strongest performance of Long's career. He gets to portray an array of different shades with his character, from egomaniacal jerk to timid victim and finally raging science experiment (Smith's script reminds you often how much of a jerk Wallace was). It's more than just a performance of panicked screams. Long manages to find a character here and stays true to him, even as Wallace's psychological grasp is broken. He almost grounds the absurd third act due to the strength of his performance. It's that more jocular second half where Tusk starts to lose its momentum and focus, and that's primarily because of the introduction of the character Guy Lapointe (Johnny Depp), a French Canadian private eye. Yes, that Johnny Depp, starring in a Kevin Smith movie, adopting a silly accent and a silly fake mustache and becoming what is essentially his take on Peter Sellers' Inspector Clouseau. It's a character that feels like he walked in from the set of a different movie, one that is far more aimlessly wacky. The sequences with Lapointe are also laboriously overstuffed. They just go on and on, and you fee whatever sense of momentum starting to flee, sadly. Depp is amusing and I'm genuinely thrilled to see him in a small movie where he can afford to be even weirder. The problem is that the Lapointe scenes feel more like an improv session that Smith was afraid to cut short or nudge in a different direction, as if he was so gracious about Depp agreeing to be involved that he ceded all control of those scenes. The introduction to the character is a ten-minute sequence, itself with an overextended flashback, and after the initial shock and fun of watching Depp wears off, I started wishing to get back to the man-walrus. Tusk is a unique experience, a macabre experimental lark from Kevin Smith, but it also seems to be the first in a new direction for a man who made his millions on stoner comedies. Smith is currently underway on three other movies, all of them horror, two of which are the next stages in what has become his Canadian Trilogy of Terror. While Tusk hasn't made a blip at the box-office (if ever there was a film that cried out for on-demand, here it is), it has reawakened Smith's creative impulses and now the guy can't stop. Tusk is gross, funny, and genuinely creepy before it goes overboard with its very special guest star. I understand from a plot standpoint why another main character was necessary, but the movie needs some further discipline and tightening that it lacks. Basically, after reading the premise, you'll know whether or not this film is for you. My girlfriend accompanied me without any knowledge of the plot or the genre, and she enjoyed it. Perhaps there's hope for you as well. Nate's Grade: B-
Nate Zoebl
Super Reviewer