The Tuskegee Airmen
(1995)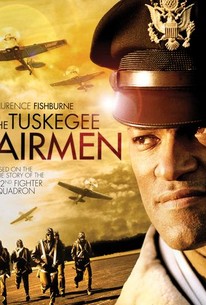 The Tuskegee Airmen Photos
Movie Info
Based on a true story, The Tuskegee Airmen chronicles the experiences of the first African-American fighter pilots in the U.S. Army Air Corps. Using Hannibal Lee (Laurence Fishburne) as a focal point, the movie follows the airmen from their initial training at Tuskegee, Alabama, through their combat assignments during World War II. Featuring fascinating vintage military planes and exciting air-combat footage, the film also depicts the racism encountered by the pilots. In one example, the airmen are forced to give their seats on a crowded train to German prisoners of war. Even after the airmen complete their training, the military brass is reluctant to trust them in battle. But First Lady Eleanor Roosevelt publicizes their plight by going to Tuskegee and having one of the African-American pilots take her for a plane ride, and shortly thereafter the airmen are assigned a combat role. Eventually they join with other African-American pilots in the 332nd Fighter Group where their skill in protecting bombers from enemy fighters finally earns them the respect they deserve. The screen story was co-authored by Robert Williams, one of the pilots trained at Tuskegee.
Critic Reviews for The Tuskegee Airmen
Audience Reviews for The Tuskegee Airmen
Based on a true story, "The Tuskegee Airmen" tells the story of a group of African American pilots and their challenges in becoming airmen for the United States to help fight for their country. The film includes many clips of actual footage of various missions being carried out mixed in with the rest of the acted material. The film is a simple but effective look into the troubled and corrupt world that blacks were forced to be part of during times of segregation. There were moments you could feel the pain and loss through their eyes and there were several times I connected with these men and their struggles. Overall this was a wonderful film that HBO made for television and is much more correlated with a theatrical film then a television movie. This is a solid watch no matter the color of your skin and is a great story of acceptance in the most basic of ways.
Chris Browning
Super Reviewer
Ackackack go the enemy fighters, swoonswoonswoon go the soundtrack violins... Well, you could do worse than watch Laurence Fishburne, Cuba Gooding Jr , Andre Braugher and more swoop stylishly through the air and stride fetchingly around in pilots jackets for ninety minutes , but both the calibre of acting and the true story of an elite squad of black US pilots fighting racism and Germans are let down by the made-for-HBO-tv overdramatics .
½
A good film that could have benefited from a larger budget.
Randy Tippy
Super Reviewer
The Tuskegee Airmen Quotes
| | |
| --- | --- |
| Billy Roberts: | Why would you want to fly for a country that thanks you by lynching you? |
| | |
| --- | --- |
| Senator Conyers: | As God is my witness, those boys will never see combat. |
| | |
| --- | --- |
| Lt. Glenn: | Friends die in our business and the only protection you have against losing them is not to have any. |
| | |
| --- | --- |
| Major Joy: | This ain't your country. Your country's full of apes and gorillas, malaria, missionaries. |