The TV Set
(2007)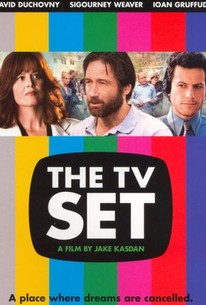 TOMATOMETER
AUDIENCE SCORE
Critic Consensus: Offering both broad and insider jokes, The TV Set is a sharp satire that will please both the average moviegoers and pop culture aficionados.
Movie Info
Writer/director Jake Kasdan's showbiz comedy The TV Set stars David Duchovny as Mike Klein, a television producer who in the beginning of the film successfully sells a network on a story idea. The film follows Klein as he must actually put the show together, navigate the corporate minefield of the network, and figure out what aspects of his show he is willing to compromise. Sigourney Weaver plays the demanding president of the network, Justine Bateman plays Klein's wife, and Judy Greer plays his manager. The TV Set had its world premiere at the 2006 Tribeca Film Festival. ~ Perry Seibert, Rovi
News & Interviews for The TV Set
Critic Reviews for The TV Set
Audience Reviews for The TV Set
"A place where dreams are canceled" The story of a TV pilot as it goes through the Network TV process of casting, production and finally airing.
REVIEW
Jake Kasdan's satire, "The TV Set", is a pitch perfect , dead-on depiction of the myopic vision of American television which has become a vast wasteland of so-called 'reality' shows and mean-spirited game shows when in essence, the true pillars of its foundation, the scripted format is on the wane. Never before has a sharp-edged black comedy been needed to poke at the underbelly of the medium than now. The filmmaker cut his teeth on TV including the much critically lauded, hastily dispatched "Freaks & Geeks, that his insider voice is on full display for biting the hand that fed him and for rubbing its ilk in the mess its created. Kasdan layers everything with a touch of stinging wit, caustic dialogue, and unbelievable accuracy of how some people truly are so incredibly dense to the matters of the creative process it's a true wonder how the hell they got so far (let alone dressed themselves in the morning and made the effort at a daily life!) Duchovny's Mike Klein, behind a thatch of itchy/scratchy beard as a mask of indifference to what is thrown at him knowing ultimately he will have to acquiesce at basically every power play and sign his soul away to get his baby on the air; truly soul-crushing to watch one's lifetime dream become a living nightmare. While not a classic like "The Player" or even "Network" the film works on its own merits by not caving in to be likable either; Lenny wouldn't have it any other way.
Lorenzo von Matterhorn
Super Reviewer
Duchevny is just fine in this role, but Sigorney steals every single scene she's in, getting almost all the laughs in the film. This is well trodden ground, and while it does a reasonable job (recalling the hilarious, short lived, tv show "Action"), I felt that the guy cast as the male lead in the tv show was just as over the top as his acting ablility was supposed to be - which was distracting and caused the film to lose momentum and direction. Yes, the guy was supposed to be a moron, but the film shouldn't have been about him, except as a gentle nudge at what the creator (Duchevny) had to deal with. The way in which he hit on his co-star was weak and unnesessary - right out of comedy script 101. Were we supposed to laugh there? Gee, wasn't he "zanny". Nope. Too bad, as there were some tightly written moments, and as absurd as Sigorney's charactor was, she's such a consumate actress that you believed that she believed every word.
paul sandberg
Super Reviewer
I great idea, great cast, just not very well executed. To those of us who feel like network TV is (for the most part) SHIT...this will seem like a very tame (sometimes ammusing) attempt to point out why network TV is so bad. It could have been done in a much more effective and "biting" sort of manner. To those who enjoy their reality TV and mundane, cookie-cutter sit-coms, it will mean nothing. I was left feeling that perhaps this film was a victim of the very subject matter they were meant to be parodying.
The TV Set Quotes
There are no approved quotes yet for this movie.