Twenty Bucks
(1993)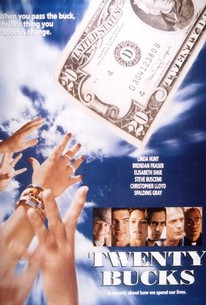 Movie Info
After a woman receives a twenty dollar bill from her ATM, she drops it and it is soon picked up by a homeless woman who seems to think she can play its serial numbers at the lottery and win. Unfortunately, it is soon stolen by a skateboarder and from there, it journeys from one person to the next--all of whom are in close proximity to each other--and after much adventure, comes to end up being torn, taped back together and exchanged for a fresh bill.
Audience Reviews for Twenty Bucks
½
As a twenty-dollar bill circulates, various classes of people assign it differing values. American class differences reveal themselves in this fine but didactic film. The conceit is interesting enough, and the stories and characters are all engaging, from the thieves to the engaged couple, but when it all comes together, in a haphazard Altman imitation, it's hard to discern that we've seen anything new or remarkable. Overall, this is a good concept, well-executed, but not as "important" as it might think.
Jim Hunter
Super Reviewer
½
This was originally written in 1935, but put aside and forgotten about for almost 6 decades. After the screenwriter's death, his son found this forgotten work, read and fell in love with it, and, after updating it for contemporary times, decided to finally have a film made out of it. What we get here is a glimpse into the surprising life and times of a twenty dollar bill and the people that directly and indirectly come into contact with it. It's not a truly unique idea in general, but the use of such a ubiquitous object is. Having it solely focus on the bill would be boring, so what we really get presented with is a look at the lives of the people the bill comes in and out of contact with. They come from all walks of life and economic social classes, so, in effect, this is a clever little film that shows almost the full make up of the denizens of an anonymous American city. Some of the many types of people that get followed include a lottery obsessed homeless woman, an aspiring writer working as a waitress, a veteran thief trying to train an unpredictable new partner, and a groom to be whose not too sure about his father-in-law to be. The characters are made up of an impressive ensemble cast that includes names like Linda Hunt, Christopher Lloyd, Steve Buscemi, Elisabeth Shue, Brendan Fraser, among several others. They all do a pretty decent job, but my favorites are the first three people I mentioned. The film is presented as interwoven vignettes, and, while they're not uniformly great quality-wise, none of them are really terrible. All in all this is a really fun and enjoyable film that's sadly underrated. Do yourself a favor and look it up.
Chris Weber
Super Reviewer
Good actors, interesting idea but sloppy execution
Twenty Bucks Quotes
There are no approved quotes yet for this movie.