Twice in a Lifetime
(1985)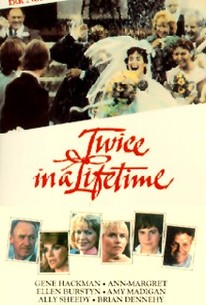 Twice in a Lifetime Photos
Movie Info
On the occasion of his 50th birthday, blue-collar family man Gene Hackman is possessed by our old friend, The Mid-Life Crisis. Visiting a local tavern, Hackman becomes enchanted by gorgeous barmaid Ann-Margret. In less time than it takes to down his beer, he has resolved to leave his wife Ellen Burstyn, and his daughters Ally Sheedy and Amy Madigan, in favor of a fresh start with his sexy new "conquest." The film deals not so much with Hackman's impulsive decision as with the genuine pain he leaves in his wake. Madigan's vituperative lash-out at her father is one of many heartbreaking moments of truth in this refreshingly cliché-free domestic drama. The perceptive screenplay for Twice in a Lifetime was written by Colin Welland; the film's theme music was composed by Paul McCartney.
Critic Reviews for Twice in a Lifetime
All Critics (6) | Top Critics (1) | Fresh (5) | Rotten (1)
Twice in a Lifetime stacks its cards very carefully, and cuts the deck more than once. One of the strengths of the movie is that it allows us to see so many points of view.

At times so personal that the act of watching the movie often feels like eavesdropping.
Audience Reviews for Twice in a Lifetime
½
good acting by all involved in this little known gem.
Twice in a Lifetime Quotes
There are no approved quotes yet for this movie.