The Twilight Saga: New Moon
(2009)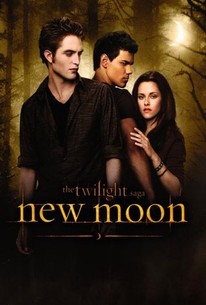 TOMATOMETER
AUDIENCE SCORE
Critic Consensus: The Twilight Saga's second installment may satisfy hardcore fans of the series, but outsiders are likely to be turned off by its slow pace, relentlessly downcast tone, and excessive length.
The Twilight Saga: New Moon Photos
Movie Info
The supernatural tale of star-crossed lovers continues as the Cullen family flees Forks in order to protect Bella (Kristen Stewart), and the heartbroken high-school senior discovers that vampires aren't the only creatures in town. Realizing that Bella will never be safe as long as he's around, Edward (Robert Pattinson) makes the difficult decision to leave his beloved behind shortly after her 18th birthday. Reeling from her loss, Bella embraces self-destruction after being comforted by Edward's image during a moment of mortal peril. But as heavy-hearted as Bella may be, her old friend Jacob (Taylor Lautner) distracts her from her sorrows by helping her renovate a weather-beaten motorbike. When Bella encounters a former adversary with a sizable grudge, she's rescued from harm at the last second by pack of enormous, ferocious wolves. Subsequently delving into the history of the Quileutes, Bella discovers the secrets of Jacob's tribe while looking forward to a reunion with Edward that may have deadly consequences. ~ Jason Buchanan, Rovi
Critic Reviews for The Twilight Saga: New Moon
Audience Reviews for The Twilight Saga: New Moon
½
OK now this franchise just got really silly, the first film was actually OK in a dumb kiddie kind of way but this sequel is just dumber and VERY frustrating. Stewart's character is so annoying as she sulks around missing Edward the vampire and pissing everyone off by trying to kill herself and get attention all the time. She then finds Jacob the werewolf and falls for him but then he gives her the push and she sulks around over him and again tries to kill herself and get attention...this is not a good example to set for young teenage girls but I guess their mums are too busy watching the young topless boys on screen. The whole film is ridiculous and is almost soft silly MTV porn, the werewolf characters all walk around topless and in shorts all the time which is kinda odd. The wolf CGI looks OK fur wise but then you see their faces and mainly the eyes and it all falls apart. The ending set in Italy is a mess and I couldn't follow what the hell was suppose to be happening, and did I mention 'Bella' flirting with Edward to Jacob every other scene not knowing who she wants *yawn* you just wanna slap her. Its virtually the same as the first film but with werewolves, more naughty vamps trying to kill Cullen and Bella and a very predictable outcome. I haven't read the books but from other reviews I have read these films don't compare in anyway, shame is the first film was actually not bad as a teen angst vamp flick for the modern age, a kind of 'Lost Boys' crossed with 'Interview' but with a softer edge. This is just a preset, money spinning, CGI rushed 'Harry Potter' type franchise like everything in this day and age, no quality or actual decent acting, its just faceless pretty people who are ten a penny in most films these days and will vanish into obscurity in years to come. There is yet a third outing for this silliness to come despite the outcome of this film (they just love to whack out a preset trilogy for everything huh) and I will watch it simply for my love of anything to do with vamps and lycans, I know what I'm in for.
Phil Hubbs
Super Reviewer
½
A slight improvement (albeit almost insignificant) over the first movie, with a few things that do work, but the lame, uninteresting main couple (along with Pattinson's inexpressive performance) and the cheesy dialogue get very tiresome after a while.
Carlos Magalhães
Super Reviewer
The second chapter of the Twilight saga is no better than its first. New Moon possesses no action, a visually satisfying scenery and a dull performance from the cast. The film drags along with its timely duration and slow pace. 2/5
Eugene Bernabe
Super Reviewer
The Twilight Saga: New Moon Quotes
| | |
| --- | --- |
| Caius: | We do not offer second chances... |
| | |
| --- | --- |
| Edward Cullen: | leaving you was the hardest thing i did and i swear i'll never fail you again. |
| Edward Cullen: | Leaving you was the hardest thing I've done in 100 years. I swear, I will never fail you again. |
| | |
| --- | --- |
| Emmett: | "Dating an older women, hot" |
| Emmett: | Dating an older women, hot. |
| Emmett: | Dating an older women? Hot. |
| | |
| --- | --- |
| Edward Cullen: | Bella, will you marry me? |