Twilight Zone: The Movie
(1983)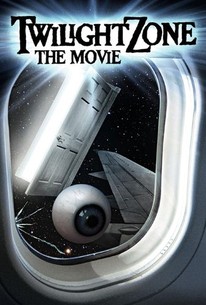 TOMATOMETER
AUDIENCE SCORE
Critic Consensus: The Twilight Zone: The Movie suffers from the typical anthology-film highs and lows; thankfully, the former outnumber the latter.
Twilight Zone: The Movie Photos
Movie Info
Based on the popular television series created by Rod Serling, this film of horror and the supernatural tells four separate stories--each by a different director: John Landis, Steven Spielberg, Joe Dante and George Miller. In one, a bigot is taught a lesson when he is transported to experience the lives of three different victims of prejudice and intolerance. Another takes a trip to an old-age home where the arrival of a special man turns some of the residents into youthful people once again. In the third, a woman befriends a timid young child who turns out to be a maniacal brat with bizarre powers. The final segment shows how a man with an aversion to flying has a rough time when he panics and then sees a strange creature on the wing outside his window seat.
News & Interviews for Twilight Zone: The Movie
Critic Reviews for Twilight Zone: The Movie
Audience Reviews for Twilight Zone: The Movie
½
Four stories by four directors, Spielberg, Landis, Dante and Miller, a great collection of directors and a neat selection of spooky tales. This is actually a great movie adaptation of the series which doesn't forget its place and go overboard, the stories are remakes from the original series but including one original story. The first tale is about a racist bigot who is somehow transported back and forth through time from Nazi Germany to Vietnam experiencing racism against himself. An obviously strong message of justice or revenge against prejudice in a very simple way. Landis does a reasonable job with the simple tale but its a little uninspired and personally I would of liked a more horror based tale from the master of comedic terror. Tale two from Spielberg is again rather uninspired but you can tell miles off its by Spielberg with its warm glow and gentle heart. A tale of old folk who dream of becoming young again and with the help of a mysterious old man in their retirement home they do just that overnight. Easily the tear jerker of the four, very sweet, very cozy with strong similarities to the Ron Howard movie 'Cocoon', did Howard possibly pinch the idea? Tale three is clearly made by Dante, like tale two you can see the directors style straight away visually and design wise. Trademark Dante finger prints all over this with his fave actor Dick Miller used yet again. A fun and very eerie tale of a boy who can make anything he wishes come true and holds a group of people captive in his bizarre home. Pretending to be his family the small group of people are merely scared of the boy and can never leave fearing the young boy may wish something terrible upon them. Its a spooky tale if you think about it and works very well, parodied by The Simpson's in a 'Treehouse of Terror' episode surely means it deserves respect. The final tale by Miller is a remake of the classic Twilight Zone episode which featured a young William Shatner 'Nightmare at 20,000 Feet', again parodied by 'The Simpson's' earning it even more respect and fame. A terrified airline passenger is driven insane by a combination of the fear of flying and the fact he can see a monster on the wing of the plane ripping apart the engine. Probably the best of the tales with a great concept and cool creature to boot. John Lithgow plays the passenger going insane from fear nerves and anxiety with a performance equal to the original whilst the gremlin looks perfectly kooky and unnerving (Gremlin-ish). Mixed bag of tales really, the two from Dante and Miller being the best, Spielberg's is reasonable but boring and Landis I think picked the wrong type of story to best suit his abilities. Love the bookend sequences with Dan Aykroyd and the overall visual style of the movie from all directors. My only wish is that the film were a tad more mysterious and sinister with its tales, but overall its a solid anthology.
Phil Hubbs
Super Reviewer
Effective horror anthology, Twilight Zone-The Movie is a memorable horror film that ranks among the finest of anthologies. This type of horror film is hard to pull off due to the fact that it's multiple stories that are designed to scare the audience. This ranks among the finest anthology films in the genre and overall it's a highly entertaining film, one that every horror fan should watch. The film boasts an impressive cast, who each bring a terrific quality that makes the film that much better. There is not one weak story presented in the film, however there are at least one truly stronger than the last one, but that's a matter of opinion. I've never seen the show, but to those like me, who's never experienced the show, this film is sure to satisfy. In terms of sheer terror, Twilight Zone: The Movie is a very atmospheric, well executed genre film that is highly entertaining and thrilling. This is an essential anthology in the genre, and like I stated, is one of the best that I have seen. Well crafted, and executed, this anthology is a classic, and boasts impressive stories that are sure to delight any fan of whatever horror genre. This is a stunning piece of cinema, one that is sure to thrill any viewer of film, and it boasts some truly terrifying and memorable stories. I highly recommend this film, and it's a fine anthology, that set the standards of all films of this genre to follow. With effective stories, and a good cast, Twilight Zone: The movie is a great horror film that you shouldn't pass up.
½
Not better that the original series and sometimes boring, but The Twilight Zone: The Movie is a nice and entertaining bizzare movie very surrealist and kinda funny that presents some good actings, as like of John Lithgow. Fresh.
Lucas Martins
Super Reviewer
Twilight Zone: The Movie Quotes
| | |
| --- | --- |
| Narrator: | You unlock this door with the key of imagination. Beyond it is another dimension: a dimension of sound, a dimension of sight, a dimension of mind. You're moving into a land of both shadow and substance, of things and ideas. You've just crossed over into... the Twilight Zone. |