Twin Dragons (Shuang long hui) (Brother vs. Brother)
(1992)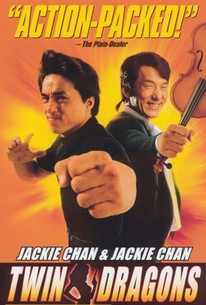 Twin Dragons (Shuang long hui) (Brother vs. Brother) Photos
Movie Info
International action star Jackie Chan stars opposite knockabout comedy sensation Jackie Chan in this story about identical twins separated in childhood who are unexpectedly reunited years later. While on the run from a Hong Kong hospital, an escaped convict takes an infant hostage, leaving the baby's identical twin brother behind. While the criminal is soon back behind bars, the police can't find the baby, who was hidden in the woods. The child is found by a well-meaning but hard-drinking woman who raises him on her own, while his brother moves to the United States with his parents. Years later, the brother raised in America, John (Jackie Chan), is a world-renowned classical musician, while the other, Boomer (Chan again), is a rough-and-tumble auto mechanic who likes to race cars and start fights. When Boomer's best friend hatches a dubious scheme to win the freedom of a nightclub singer (Maggie Cheung) in dutch with gangsters, he finds himself involved and in danger, just in time for John to arrive in Hong Kong for a concert appearance. The two brothers soon meet by accident, and suddenly finds themselves mistaken for each other. On one hand, both are pleased with the romantic possibilities, as John takes a shine to the nightclub chanteuse and Boomer discovers John's girlfriend is turned on by his more physical personality. On the other hand, John finds people are shooting at him, while Boomer is now expected to conduct an orchestra. Two of Hong Kong's leading directors, Ringo Lam and Tsui Hark, teamed for this action comedy, which was a major hit in Hong Kong in 1992, but didn't receive a wide theatrical release in the United States until seven years later. The 1999 American release was dubbed into English (with Chan doing his own voice) and trimmed to 89 minutes from the original running time of 100 minutes.
Critic Reviews for Twin Dragons (Shuang long hui) (Brother vs. Brother)
Audience Reviews for Twin Dragons (Shuang long hui) (Brother vs. Brother)
This movie is hilarious and highly entertaining. Like most of Jackie Chan's movies, this is an action slapstick comedy adventure. The idea for this one is that he has a twin, so we get twice the fun. I really enjoyed this one, it's one of my favorite movies of his.
Jackie Chan is ok, but this is clearly not his best work. Excellent stuntwork and a hilarious end battle in a car manufacturing plant. Unlike most of Jackie Chan's movies, yhis movie had a plot.
Steven Vincent Gee
Super Reviewer
½
Jackie Chan was really fantastic playing as duel role and made some excellent stuntwork and a hilarious endbattle in a car manufacturing plant.
Dean McKenna
Super Reviewer
Twin Dragons (Shuang long hui) (Brother vs. Brother) Quotes
There are no approved quotes yet for this movie.