Twin Town
(1997)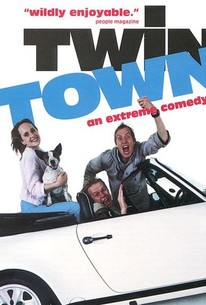 Movie Info
This black and anarchy-laced comedy takes an inside-out look at the residents of the Welsh seaside town of Swansea, a gritty place once described by poet Dylan Thomas as "an ugly lovely town." Living in one of the town's trailer parks is Fatty Lewis and his dubious children Adie, who works in a sleazy massage parlor, and his psychotic, good-for-nothing, car-stealing, trouble-making "twin" sons Jeremy and Julian (though not really twins, the townspeople refer to the notorious twosome in this manner). Other main characters include successful businessman/druglord Bryn Cartwright (owner of the "Ponderosa"), Bryn's uptight wife Lucy, Bonny, their spoiled daughter and corrupt cop Terry. After the characters are introduced, the real story begins when Fatty, a roofer, suffers a ladder accident while working on a construction site at Bryn's soccer club. Though legally responsible, Bryn refuses to financially compensate poor Mr. Lewis. This leads Fatty's crazed sons to retaliate by showering Bonny with urine while she performs at a karaoke bar. Using his influence, Bryn pressures the cops to pay a violent visit to the boys, who return to Byrn's home for more gruesome revenge. From there the situation escalates into increased violence and tragedy.
Critic Reviews for Twin Town
Audience Reviews for Twin Town
He won't pay their Dad compensation, they piss on his daughter, he beats them up, they kill his dog, he kills their family, they kill him. Bleak, depressing film with no likeable characters and constant swearing. It also put me off ever going to Swansea in my life ever.
Marcus Woolcott
Super Reviewer
If ever there was a film that makes me smile it is this one. One of the best British films that have ever been made. Its hilarious, the story is brilliant and the acting is just phenominal...........Dougray Scott is the best bent copper I have seen for years.
Barry Lappin
Super Reviewer
½
Excellent movie, laugh out loud funny with some great lines.
Stuart Brooks
Super Reviewer
Twin Town Quotes
| | |
| --- | --- |
| Jeremy: | Jeremy Lewis: Do you know what they do to you if you're caught doing drugs in Morroco? Julian Lewis: No? Jeremy Lewis: They hand you over to the RUG squad. Aaaah I fuckin' had ew! |
| Jeremy: | Do you know what they do to you if you're caught doing drugs in Morroco? |
| Julian: | No? |
| Jeremy: | They hand you over to the RUG squad. Aaaah I fuckin' had ew! |
| | |
| --- | --- |
| Terry: | pretty shitty city |
| Terry: | Pretty shitty city. |
| | |
| --- | --- |
| Fatty: | R.I.P. Fatty xxx |
| Fatty: | R.I.P. Fatty XXX. |