Twisted
(2004)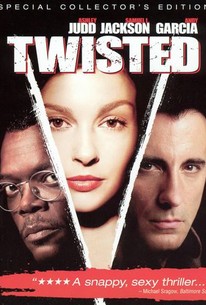 Movie Info
Philip Kaufman directs the detective thriller Twisted (originally to be titled The Blackout Murders), with a script by up-and-coming filmmaker Sarah Thorp. Ashley Judd plays troubled police detective Jessica Shepard, who works under the jurisdiction of the man who raised her as his daughter, police Commissioner Mills (Samuel L. Jackson). While investigating a serial murder case, Jessica -- who is has a proclivity for dangerous, drunken one-night-stands -- discovers that all of the victims are men whom she's recently bedded. Complicating matters are her bitter ex-boyfriend (Mark Pellegrino), her very curious therapist (David Strathairn), and her odd-behaving new partner Mike Delmarco (Andy Garcia).
Critic Reviews for Twisted
Audience Reviews for Twisted
½
Very average thriller with who cares ending. I gave it an extra star for Ashley, as I always think she is quite good. Story here is just a bit flat and surprisingly dull.
Nicki Marie
Super Reviewer
Who done it? Typical in you know there is "twist" coming, but still enjoyable. Something felt very 1990s about the whole movie.
Thomas Johnston
Super Reviewer
½
Twisted is your typical thriller that has a obligatory, game-changing twist at the end. Ashley Judd is as gorgeous as always, while Garcia and Jackson phone-in performances that really don't require a lot of effort from them. There's nothing new here, and the "why" of the murders wasn't really explained to my satisfaction, but whatever. You know if you like these kinds of movies or not, and if you you do, then Twisted is worth watching on TV (or picking up at the store for $5, like I did).
Twisted Quotes
There are no approved quotes yet for this movie.