Twisted Nerve
(1969)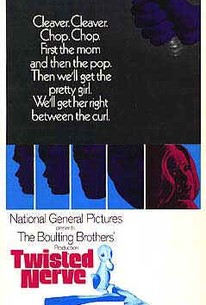 AUDIENCE SCORE
Critic Consensus: No consensus yet.
Movie Info
When a violent psychopathic killer goes on a killing spree, terror grips a family and a young college student. Susan Harper (Hayley Mills) intervenes on behalf of a shoplifter who steals a toy duck for his institutionalized twin brother. Martin (Hywel Bennett) is the thief who is helped by Susan when she convinces the store manager not to press charges. When Martin's father Henry (Frank Finley) hears of the incident, Martin is thrown out of the house. Martin and Susan attend a public picnic together, but Susan is frightened when Martin stands before her naked after kissing her. Following her home, Martin makes a play for Susan's sex-starved mother Joan (Billie Whitelaw). Martin becomes the emotional equivalent of a six-year-old when he is unnerved, leading to violent and tragic results. The role for Hayley Mills did much to distance her from the roles she had previously undertaken in such movies as The Parent Trap and Pollyanna, successfully eliminating her being typecast as a child actress.
Critic Reviews for Twisted Nerve
All Critics (2) | Fresh (0) | Rotten (2)
There are only so many ways one can conceive of and plot heinous crimes and execute them in all their gore, so that many times offerings of this type seem belabored and unimaginative.
The real trouble is not that the film is horrific, but that its notion of shock value seems so blatantly calculated in their and so lame, decrepit and unalparming in practice.
Audience Reviews for Twisted Nerve
½
It's not a perfect movie; and it's not a movie that strives for a type of perfection that's easily recognizable. The plot has disposed of all classical symmetry, yet there are many moments of classical authority in the shot set-ups and staging, an approach that feels unsettling when applied to a horror movie about deviance and perversion -- the camera is so much more clinical and relaxed about things than you are. The way the plot follows the character and not the other way around earns the movie its two-hour running time. You're curious what the psycho is going to do next, and feel more and more that even he doesn't know, to his own detriment, doing constant violence to audience expectations. He has a master plan that is meant to satisfy both his pure hate for his stepfather and his obsessive infatuation with the pure ideal of young womanhood he sees in Hayley Mills (-- at a a time in her life when she evidently had an amazing body). Poured into this tainted mixture is his general lust for women that leaves him feeling either too strong or too vulnerable, the entertainment he gets from manipulating every human being with whom he comes in contact, narcissistic regression, the righteous indignation he carries against the world for finding it easy to reject his retarded brother, and of course pure male ego. Although the movie is from 1968, it decides to use the older technique of innuendo in the dialogue to such an extreme that it ends up talking about a variety of social issues and perverse desires a more explicit movie would not be able to bring together without falling apart and turning into a bullet list of the filmmakers' prurient ideas. Billie Whitelaw is playing young and old, mother and vamp, modern and traditional, lust and ice, patrician and shopgirl, perverse and normal, self-honest and pitiably unaware all at the same time.
Adam Mahler
Super Reviewer
½
Twisted Nerve doesn't seem to have a great reputation, and while the film (like its lead character) certainly does have some problems, I enjoyed this one in spite of them. The main problem people seem to have with this film (so much so that the filmmakers actually had to tack on an apology before the film starts!) stems from the fact that it seems to be professing that siblings of mongoloid children were more likely to become psychopaths. This idea is somewhat silly and I can see why it would bother some people; but seriously, this is just a thriller and while the idea is unlikely and misguided, it didn't bother me too much. It also should be noted that 'nurture' plays a big part in the lead character's mental health problems. The film focuses on Martin Durnley. His mother treats him like a child, his stepfather dislikes him and his mongoloid brother is institutionalised. He meets a young girl named Susan Harper, who takes pity on him (or rather, his alternative personality 'Georgie') after a shoplifting incident. But this soon leads to obsession for the troubled young man... If you go into this film expecting something deep or brilliant, you will be disappointed. As mentioned, the point that the film tries to make is not well imposed and not much else about the film has any depth. Still, as a thriller it works well. The main influence for the film is clearly Hitchcock's masterpiece 'Psycho' and the two share a lot in common. The central character is interesting for the fact that he's so strange. Hywel Bennett really succeeds in creating a character that is both bizarre and completely sinister. The supporting cast isn't as great in terms of performances, but the two leading ladies are much nicer to look at. Hayley Mills delivers the typical young British female lead, while Billie Whitelaw is the real standout for me as the young girl's mother. Twisted Nerve also features a memorable tune, and possibly takes influence from Fritz Lang's M as the lead character often whistles it. The film flows well throughout and delivers the intrigue from the character actions and the situation rather than through suspense. I can see why this film is not often hailed as a classic; but if you're looking for an interesting watch and don't care about some silly ideas, Twisted Nerve comes recommended.
Cassandra Maples
Super Reviewer
Polyanna got hot in this awesome little British thriller/character study about a Scitzophrantic socio-path.
Ken Stachnik
Super Reviewer
Twisted Nerve Quotes
There are no approved quotes yet for this movie.