Two Evil Eyes
(1990)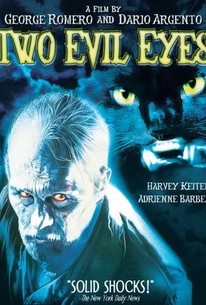 Movie Info
Two separate tales from Edgar Allan Poe are loosely adapted in this horror drama. George Romero's "The Facts in the Case of M. Valdemar" deals with a wife's evil scheme to seize her husband's money, while Dario Argento's "The Black Cat" concerns a police photographer who turns into a murderer.
Critic Reviews for Two Evil Eyes
Audience Reviews for Two Evil Eyes
½
A great double feature from two of the greatest horror directors. The stories are simple yet very enjoyable. Harvey Keitel sure seemed to have a fun time killing cats and making life-size duplicates of his girlfriend. The other story was almost too perfect for Romero, zombie husbands. I felt that these two stories were a great homage to Edgar Allen Poe as well as a unique type of horror.
Conner Rainwater
Super Reviewer
Plays well off of each director's strengths and weaknesses. Disturbingly brilliant.
Tim Salmons
Super Reviewer
½
We have an anthology of two Edgar Allen Poe tales, directed by famous Italian horror maestros. Story #1, directed by George A. Romero, tells of an undead husband getting revenge on his wife (Adrian Barbeau). Somewhat boring. Nothing too gorey or special here. Story #2, directed by Dario Argento, is about a photographer (Harvey Kietel) killing his girlfriend's black cat, and then being haunted by the ghost of it. Gore here. There are some shock moments which I liked. Poor kitty though!
Lafe Fredbjornson
Super Reviewer
Two Evil Eyes Quotes
There are no approved quotes yet for this movie.