Two Fists, One Heart
(2009)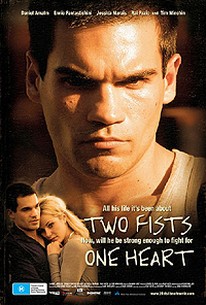 Two Fists, One Heart Photos
Movie Info
Television-honed Aussie director Shawn Seet helms this contemporary domestic drama about the events that befall a family of Sicilian immigrants in their adopted home of Perth, Western Australia. Though the son of the Argo clan, twentysomething Anthony (Daniel Amalm), enjoys his life as a top-tiered boxer and a nightclub doorman, he harbors disturbing ingrained attitudes toward life - notably the idea that violence is the most acceptable and effective way to resolve conflict. Anthony soon meets and develops feelings for the gorgeous Kate (Jessica Marais), and she for him, but she leads him directly into sectors of society that are completely new and alien to him and thus poses a direct threat to the attitudes that Anthony's father Joe has handed to him. In time, Kate begins to directly reshape Anthony's behavior and perceptions. ~ Nathan Southern, Rovi
Critic Reviews for Two Fists, One Heart
Audience Reviews for Two Fists, One Heart
½
This story should be called an Australian Rocky. Daniel Amalm and Jessica Marais were all good in their roles, however Rai Fazio and some of his mates could do with more acting lessons. And the boxing scenes are fantastic that reminded me of the past boxing movies.
Dean McKenna
Super Reviewer
Anthony Argo (Daniel Amalm) is a handsome Italian boxer and nightclub doorman. He is trained by his father Joe, a veteran boxer who has brought his Sicilian values with him to Australia. He meets Kate and begins to question many of the foundations of his upbringing; in particular the role that violence plays in the resolution of conflict. This is not just a fight film, it's also very much a tale about a father and son and the conflicts faced. I found it interesting in that it's written by a former boxer Rai Fazio who plays Nico "The Bull" Mancini. He's a boxer of Sicilian origin and the story is set in Perth Western Australia. Two Fists, One Heart lacks in originality but it more than makes up for that with pure conviction and emotional drive, a determination to entertain with an emotionally satisfying, evocative tale about masculinity, responsibility and aggression. I thought the boxing scenes were most realistic also. Luved it! "What, you trying to tell me that two guys trying to knock each other's heads off isn't everyone's idea of entertainment?"
Two Fists, One Heart Quotes
There are no approved quotes yet for this movie.