Two for the Money
(2005)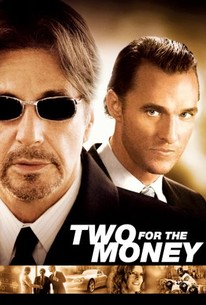 Movie Info
D.J. Caruso's Two for the Money stars Matthew McConaughey as Brandon Lang, a former college quarterback whose life plans changed when he suffered a career-ending injury. Brandon turns out to have remarkable skill at picking winning football bets. Eventually, he comes to the attention of Walter Abrams (Al Pacino), a very successful business tycoon who runs a giant gambling operation. Walter brings Brandon to New York and introduces him to a glitzy, fast-paced, money-drenched lifestyle that Brandon eagerly soaks up. When Brandon's magic touch begins to falter, Walter starts to turn on his protégé. Soon the two men are attempting to outwit each other, with Walter's wife (Rene Russo) caught in the middle.
News & Interviews for Two for the Money
Critic Reviews for Two for the Money
Audience Reviews for Two for the Money
To be honest, it's not *that* bad considering it's a movie about sports betting. I didn't expect to sit through all of it as it was, but I got increasingly more and more bored as it went along. There wasn't enough story outside of the betting, though the two lead characters were strong and had potential to be interesting. More Alexandria would have maybe improved the story. I think some of it is down to me. I really aren't into sports and sports movies. At all.
Nicki Marie
Super Reviewer
½
The thing about a business that makes and sells picks to sports bettors is that, technically, it's not gambling... except for the fact that it is. What was good about this film was the recovered gambling addict (Pacino) and his wife, the poorly acted but more-or-less believable ex-drug addict (Russo). They walked and talked like rehabbers, no question. But what was really frustrating was the pervasive fear that Pacino would go back to gambling... his business is based on making the right picks. He's been gambling all along! The film is anything but subtle, and though it's promising through the first half, it loses control in the second, throwing in a bunch of scenes that unnecessarily delay the resolution, and distract from the movie's point, that you can't win them all. Still, there is a decently-plotted classical tragedy element to McConaughey's character (pride goeth before the fall), and Pacino is always fun to watch. Too bad this film's only half-baked, it had potential.
Daniel Perry
Super Reviewer
½
This movie sucks like a vacuum!
Two for the Money Quotes
There are no approved quotes yet for this movie.