Two Girls and a Guy
(1998)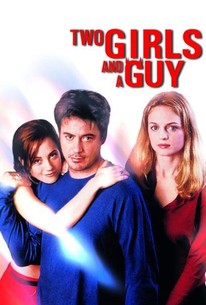 TOMATOMETER
AUDIENCE SCORE
Critic Consensus: Two Girls and a Guy has an intriguing premise and a talented trio of leads, but doesn't do quite enough with any of them to make the end result truly worth a watch.
Two Girls and a Guy Photos
Movie Info
In this darkly comic tale of love and infidelity, Carla (Heather Graham) and Lou (Natasha Gregson Wagner) are both waiting outside an brownstone in Soho and happen to strike up a conversation. It seems both of them are waiting to meet their respective boyfriends, and as they discuss the bright, funny, romantic and monogamous men they've been lucky enough to become involved with, they make a surprising discovery -- they're both waiting for the same man, Blake (Robert Downey Jr.), an actor, musician and compulsive womanizer. As they compare notes on the man they've been unknowingly sharing and what they should do about the situation, Blake arrives and quickly starts trying to talk his way out of the disastrous situation. Writer and director James Toback claims he was inspired to write this project for Robert Downey Jr. after seeing a news report showing him in jail after violating parole regarding an arrest for drugs; Two Girls and a Guy was written in four days and shot in eleven days on a single set, and features excellent performances from Downey, Graham, and Wagner. ~ Mark Deming, Rovi
Critic Reviews for Two Girls and a Guy
Audience Reviews for Two Girls and a Guy
The idea is good - two girls find out by accident that they have been dating the same guy for a year. They decide to confront him. But I didn't find Blake's excuses funny at all - in fact, I wondered what the two girls were still doing at his apartment after the first 15 minutes of the movie at all.
Two young ladies named Carla (Heather Graham) and Lou (Natasha Gregson Wagner) strike up a conversation while waiting outside of an apartment building for their boyfriends. It's not long into their conversation when they discover that they are each dating the same guy: a narcissistic and arrogant actor named Blake (Robert Downey, Jr.). Angered and bewildered over his deception, the two decide to team up, break into his apartment, and confront him when he gets home. I think this is probably what Les Diaboliques might be to an extent if it wasn't a horror/thriller. It's a darkly comedic dramedy about love, lust and commitment in the late 90s, and a really nice and underrated gem. It's definitely got the vibe of a stage play, mostly due to the minimal cast, and the fact that it takes place entirely in front of or inside Blake's apartment. It was also shot almost totally in sequence and plays out almost completely in real time. I don't want to spoil how the confrontation plays out, as that's where the joy of the film lies, but I will say that I was surprised by it, and totally didn't know what to expect or where the film was going. The writing is pretty strong for the most part, though things do slip somewhat near the end. What I really didn't expect from this is how it starts off like a typical fluffy romcom, but ends up being something actually worth of contemplation and serious discussion. Awesome. It's not perfect, but this is overall a really strong piece of work. It's got great casting and performances, it's about something, and it both entertains and gives the brain something to think about. Well done.
Chris Weber
Super Reviewer
If you like Heather Graham and/or Robert Downey Jr., you should check this one out. However, this film has it's problems. The story and dialogue seems to go nowhere, and the film pretty much falls flat. I do think there are moments that allow humor from Robert Downey Jr.'s character who's an actor/musician that is clearly all over the place in many ways. When Carla(Graham) and Lou(Wagner) meet outside an apartment building(brownstone) in Soho(NYC), they start to chat about the guy they are waiting for and the coincidences are just too close. Heather Graham was my reason for watching any of this, and there is a scene or two worth seeing if you like her as well.
Two Girls and a Guy Quotes
There are no approved quotes yet for this movie.