Two in the Wave (Deux de la Vague)
(2010)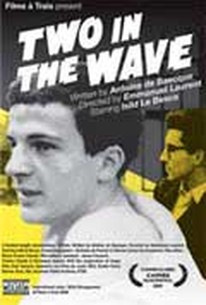 Two in the Wave (Deux de la Vague) Photos
Movie Info
The French New Wave crashed onto international shores when François Truffaut's debut feature, THE 400 BLOWS, premiered at Cannes in 1959, followed quickly by Jean-Luc Godard's equally thrilling BREATHLESS, based on a Truffaut story. The two filmmaking rebels, great friends and fellow graduates of the Cahiers du Cinema, for which both wrote extensively, hailed from different sides of the tracks: Truffaut, a poor reform school boy, and Godard, a Swiss haute-bourgeois. Both cast Jean-Pierre Léaud in many of their movies (for Truffaut, as his alter-ego, Antoine Doinel) and led the movement to save Henri Langlois's job at the Cinemathèque Française in '68. TWO IN THE WAVE poignantly melds revealing period footage of both men (and of Léaud, torn between father-figures) with scenes from some of their greatest films, as it moves inexorably toward their bitter falling-out. -- (C) Lorber
News & Interviews for Two in the Wave (Deux de la Vague)
Critic Reviews for Two in the Wave (Deux de la Vague)
Audience Reviews for Two in the Wave (Deux de la Vague)
½
The best parts of the otherwise forgettable documentary "Two in the Wave" are the older footage and interviews with Jean-Luc Godard and Francois Truffaut, in trying to explore their influences and films, as they encouraged each other and occasionally worked together in the 1960's. Sadly, there is little new material of interest here for us students of film and almost no current interviews.(Admittedly, I had never heard of "Les Carabiniers" before this.) And as easy as Isild Le Besco is on the eyes, I'm not that sure what she is supposed to be doing here. To be honest, I don't think I would recommend this documentary to the uninitiated, either, as it takes a simplistic view towards the friendship between Godard and Truffaut and their films. For example, Truffaut who is depicted as being totally apolitical did make an adaptation of "Fahrenheit 451."(I read the book but never saw the movie.) By comparison, Godard was off the deep end politically early on with "Le Petit Soldat" which marks the first appearance of the Little Red Book in his films. Well, he did say that he wanted to alienate his audience...but he probably did not need radical politics to do so, and that might not be the only reason for the split with his former collaborator.
A empty documentary that is all over the place. The subject matter is great and it should write itself, but it just gives you snippets of information and rushes through everything. It's about Truffaut and Godard's relationship from the start of the New Wave until Truffauts death, and the whole Doc is boring. I read a article a couple of years ago in The New Yorker about the same subject matter, and it was leaps and bounds superior. My love for that article is probably what soiled me on this empty film. It may be interesting if you knew nothing about these two, but I doubt it.
cody franklin
Super Reviewer
Two in the Wave (Deux de la Vague) Quotes
There are no approved quotes yet for this movie.