The Two Mrs. Carrolls
(1947)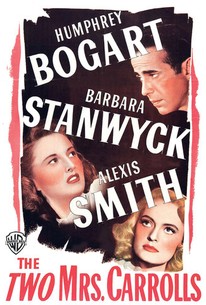 The Two Mrs. Carrolls Photos
Movie Info
In this thriller, Humphrey Bogart plays a psychotic artist who secretly poisons his wife after falling in love with another woman. When the wife dies, the widower marries the new woman. Eventually, the artist falls in love with his neighbor. However, this time his wife suspects that something is amiss.
Critic Reviews for The Two Mrs. Carrolls
Audience Reviews for The Two Mrs. Carrolls
½
Intriguing pairing of Bogart and Stanwyck. Some good thrills.
Anthony Valletta
Super Reviewer
½
this flick overthrows the usual typecasting for humprey bogart and babara stanwyck, the former constantly as detective hero or gangster villain; the later freuently as self-assured heroine or shrewd femme fatale. now both of them are handled in the niches which could be iconclastic to their usual screen images. this pecuilar set-up might be odd but somehow weirdly divertive. the plotline goes like bogart(mr. carreols) as an artist who is having illict affair with stanwyck who is unaware that he's a married man. then she flees away after an unexpected discovery that forces borgie to poison his wife with a glass of milk mingled with arsenic. after years of happy bond with stanwyck, he gets wearily drained becuz he absorbs all the musings she could possibly inspire on him. then he tries to murder his present wife again after he seeks love in his beau monde art sponsor, also with a glass of milk blended with lethal arsenic. the idea to cast borgie as the blue-beard compulsive serial killer is sorta uncanny, but the script dubs some notions to make sense on his lunatic motives. this painter is a parasite leech which sucks up the amorous essence out of its female hosts to accomplish his great art pieces. when he's in love with a woman, he nullifies everything for her. when love fades, he poisons her to death then commemorate her demise with an eerie skeleton portrait of her. at last when he gets caught, borgie leaves a phenomenal line "do you want a glass of milk?" rarely seen stanwyck as helpless victim, but it's amazing that she could also play gently meek character convincingly even it's more hellish fun to see her being predatory vixen. generally this flick might not be innovative enough to be considered a murderer classic but still fun to toy with the concepts of tranquil drama full of stealthy twists that requires an viewer with patience to appreciate slow-paced story.
Veronique Kwak
Super Reviewer
pretty ridiculous. hardly the best for anybody involved but worth watching once
The Two Mrs. Carrolls Quotes
There are no approved quotes yet for this movie.