Two Women (La Ciociara)
(1961)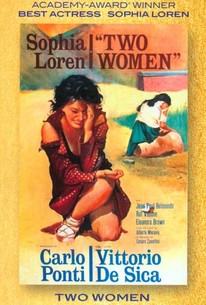 Two Women (La Ciociara) Photos
Movie Info
Normally, an actor or actress in a foreign-language film was not the ideal candidate for an Academy Award, inasmuch as his or her English-language "performance" was often dubbed in by an anonymous third party. Such was not the case of Sophia Loren in Two Women (La Ciociara), who did her own English dubbing. Adapted by director Vittorio De Sica and Cesare Zavattini from the novel by Alberto Moravia, Two Women is the semi-neorealist account of widow Cesira (Loren) and her teenaged daughter, Rosetta (Eleanora Brown), as they struggle to survive in war-ravaged Italy. A conventional romantic triangle between mother, daughter, and Michele (Jean-Paul Belmondo), is barely under way when the war rears its ugly head once more. Seeking shelter in a bombed-out church, Cesira and Rosetta are attacked and raped -- a horrifying sequence, capped by a freeze-frame close-up of Rosetta, her face a taut mask of terror (this image was enough to prompt a virulent "anti-smut" editorial in The Saturday Evening Post). Once they've recovered from this appalling experience, mother and daughter are offered a ride back to Rome by friendly truck driver Florindo (Renato Salvatori). Though Cesira had hoped to keep her daughter from compromising herself as a means of survival, she is crushed to discover that Rosetta has given herself to the truck driver in exchange for a pair of stockings. When Cesira and Rosetta finally reconcile, it is a grievous occasion, mourning the death of their mutual love, Michele. A last-minute replacement for Anna Magnani, Sophia Loren brought hitherto untapped depths of emotion to her performance in Two Women; she later stated that she was utilizing "sensory recall," dredging up memories of her own wartime experiences.
Critic Reviews for Two Women (La Ciociara)
Audience Reviews for Two Women (La Ciociara)
A mother and her daughter struggle to survive WWII in Italy. I don't have a lot to say about this film. I find it to be a film that I know I should like or at least respect, but I can't see what's so great or what's bad about it. Memorable moments like the film's ending and Sophia Loren's constantly defiant grimace are what will stay with me when I think of this film. I can tell that it's anti-war and an example of Italian cinema's neorealism, and while the film isn't inaccessible, it's not exactly common fodder either. Overall, I think I should stop writing; it's best to do so when one doesn't have anything intelligent to say.
Jim Hunter
Super Reviewer
½
Sad and difficult to watch but Sophia is very fine.
Filmed in 1960 by Compagnia Cinematografica Champion (Co Produced) on location in Itri, Italy. This was only there second film and its outstanding. This was all Sophia Loren in this film with Elenora Brown playing her daughter. Brown's role was played well for a young girl at that time. The Movie is about the mother and daughter leaving Rome during the invasion of Italy by the Germans, they go back to there home in the country but face many challenges along the way. Including rape of both mother and daughter on there way back to Rome. Yes a war theme film. Excellent 1960 story and well made. I watched this one on Netflix instant watch, but it also can be watched for free at http://www.archive.org. 4 stars
Bruce Bruce
Super Reviewer
Two Women (La Ciociara) Quotes
There are no approved quotes yet for this movie.