Two-Lane Blacktop
(1971)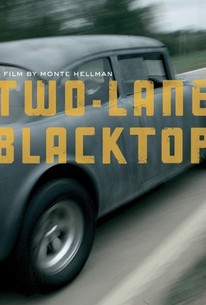 TOMATOMETER
AUDIENCE SCORE
Critic Consensus: Beautifully directed and utterly unique, Two-Lane Blacktop captures the spirit of its era as smoothly as it evokes the feeling of the open road.
Movie Info
The surface story is a quixotic cross country road race between dapper sociopath playboy Warren Oates driving a showroom GTO and ultra-laconic proto-grunge hippie gearheads James Taylor and Dennis Wilson behind the wheel of their primer gray souped-up '55 Chevy. In director Monte Hellman's hands, however, the raw materials of an AIP hot rod flick take on dark mythic overtones while becoming a quintessential document of end-of the '60s millennialism.
News & Interviews for Two-Lane Blacktop
Critic Reviews for Two-Lane Blacktop
Audience Reviews for Two-Lane Blacktop
The year 1971 was a phenomenon for minimalist,existential road movies because,released just months apart were "Vanishing Point" with Barry Newman that was released by 20th Century-Fox,and this little gem "Two-Lane Blacktop" that was released by Universal Pictures. In that same year Esquire magazine made that unprecedented move of publishing Rudolph Wurlitzer's entire screenplay for "Two-Lane Blacktop" declaring the film its pick for "movie of the year!" on the front cover. Unfortunately,it was not as this film was up against some big heavy hitters at the boxoffice that year in which three films that were "cop" thrillers dominated respectively "Shaft", "The French Connection",and "Dirty Harry" in the cinemas. The big surprise and the shocker of the Oscars was when "The French Connection" took the honors and the Oscars as the best movie of 1971 beating out the heavily favorite "Fiddler On The Roof" that year. But getting back to "Two-Lane Blacktop" this movie preceded the successful "Easy Rider" as the next to the last of the existential road pictures that were all over the place during the mid-1960's and all through the decade of the 1970's. However this cult classic was unavailable for years on video until 1999 surviving in the meantime on occasional television airings on nightly late shows and ending up being screened on college campuses and in second-run theaters and drive-ins. It built up a cult following(including Werner Herzog,who helped campaign for its video release through Universal MCA Home Video)and was eventually recognized by the Library of Congress National Film Registry and the Criterion Collection,and was credited as one of the inspirations for the real-life Cannonball Run. Not bad for a film about a couple of guys with no names,driving route 66. But in some aspects,this film made the theatrical debuts of two musicians...One was North Carolina native James Taylor(who in fact is a graduated of the University of North Carolina at Chapel Hill and was raise and born in Chapel Hill,North Carolina),and the other was "Beach Boy" singer Dennis Wilson. There isn't a whole hell of a lot of plot to "Two-Lane Blacktop" other than James Taylor and Dennis Wilson cruisin down the highway in a 1955 Chevy with a teen hitchhiker(actress Laurie Bird,who became involved with director Monte Hellman and later have a relationship with Art Garfunkel,before her untimely death in 1979)who are known solely as The Driver and The Mechanic. Their racing against Warren Oates,an older fellow with a 1970 Pontiac GTO and a propensity for self-aggrandizement. From a standpoint,the film is not only a marvel,but a timeless cult classic that still brings a strong sense of realism along with its spectacular editing that perfectly fits the era. The result is standard entertainment that is to be seen. Look for an early Harry Dean-Stanton in a hilarious scene as a hitchhiker who tries to help Oates "relax". Also the soundtrack to "Two-Lane Blacktop" is an outstanding result. Check out the seldom-heard original version(which is on the soundtrack album to the motion picture) of "Me and Bobby McGee" by Kris Kristofferson as well as seldom heard material from both James Taylor and Dennis Wilson. A Bonafide classic masterpiece
Mister Caple
Super Reviewer
1971 was quite a year for minimalist, existential road movies, because, released just months apart were Vanishing Point, and this little gem, Two-Lame Blacktop. Of course, they were also preceded by the similar Easy Rider, but still, it blows my mind how this all happened in the span of just a few years. The plot is so bare it almost really doesn't exist. We get two guys known solely as The Driver and The Mechanic who make a living aimlessly driving from town to town across the southwest in their '55 primer gray Chevy challenging anyone they can to drag races to make a little cash for food. One day they take on GTO, a driver of the eponymous 1970 car, and challenge him to a cross country race t Washington D.C. for pink slips...and that's pretty much it. Oh yeah, and there's a girl of course. From a technical standpoint, the film is quite a marvel. I love the sparseness of it, it's got a strong sense of style that perfectly fits the era, and it's shot, framed, and edited very well. It's also quite faithful and authentic to the culture of the automobile. The performances are fine, given the material, and I'm curious as to why musicians James Taylor and Dennis Wilson (Driver and Mechanic, respectively), didn't take on more acting gigs. Warren Oates is also good as GTO. All in all, this isn't a film for everyone, but it's worth watching if you can tap into its specific groove, sit back, and relax.
Chris Weber
Super Reviewer
Hellman's 1971 road picture is a genuine slice of Americana. It takes place in the general malaise of the early 70's, as the idealism of the late 1960's gave way to chaos and the harsh reality of humanity. Oates' performance is absolutely masterful and heartbreaking as a man in a constant state of reinvention in hopes to one day be grounded. Even though he is more transparent than Taylor and Wilson, there is an air of despair that hovers around all of these men as they try to create their own path in life unsuccessfully. Hellman lets the viewer go along for the ride as his camera is always placed in the backseat looking through that dusty windshield. It is an excellent piece of American cinema and a snapshot of world turned upside down.
Two-Lane Blacktop Quotes
There are no approved quotes yet for this movie.