Tyler Perry's Boo! A Madea Halloween
(2016)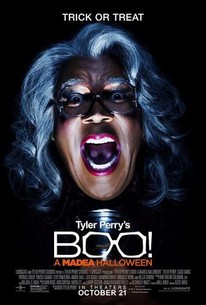 TOMATOMETER
AUDIENCE SCORE
Critic Consensus: Boo! A Madea Halloween won't win Tyler Perry's long-running franchise many new converts -- but at nine films and counting, it hardly needs to.
Tyler Perry's Boo! A Madea Halloween Videos
Tyler Perry's Boo! A Madea Halloween Photos
Movie Info
In TYLER PERRY'S BOO! A MADEA HALLOWEEN, Madea winds up in the middle of mayhem when she spends a hilarious, haunted Halloween fending off killers, paranormal poltergeists, ghosts, ghouls and zombies while keeping a watchful eye on a group of misbehaving teens.
News & Interviews for Tyler Perry's Boo! A Madea Halloween
Critic Reviews for Tyler Perry's Boo! A Madea Halloween
Audience Reviews for Tyler Perry's Boo! A Madea Halloween
½
Can you believe that Tyler Perry has been making films for eleven years now? According to his wikipedia page, Perry has written and directed 16 films. That's more than one film per year, not quite two of course. That also goes without saying the fact that he also writes and direct plays. Not to mention the fact that, at the moment, he has FIVE television series on the air,, at the moment, that were created by him. So it's obvious, clearly, that this guy works hard. I'm not trying to take that away from him. What I am saying is that, even if Madea is his most famous creation, that the movies with his most famous characters have never, ever been good. I don't even wanna imagine how bad his drama movies are considering how bad Tyler Perry actually is at writing. I've always said this when it comes to Madea movies, the character is an awful stereotype, that's for damn sure, and there's similar stories in almost every one of these movies, but Tyler Perry has always done a good job as both Madea and Uncle Joe. He can be a talented performer in that setting. He also plays a regular, character without making and, quite frankly, he's literally got no personality or charisma whatsoever. So, obviously, this guy is much better at playing over-the-top, stereotypical characters as opposed to regular ones. Which is why he, seemingly, keeps going back to the Madea well so often. And, much like every Madea movie I've seen, this was just no good. It's been eleven years since his first directorial effort came out, Madea's Family Reunion. Twelve if you wanna count Diary of a Mad Black Woman, which he wrote but did not direct. How is it possible that, in the ensuing DECADE, Perry has learned absolutely nothing about filmmaking? It's like he's getting worse, because this movie is just really fucking bad, at least on the technical level. I believe that the peak of his 'cinematic vision' has Madea's Witness Protection. And that's according to my own reviews, considering that I gave that movie two stars. It's just a better movie overall. That's not saying much, of course, but it is better. This movie just looks and feels worse than Witness Protection even though WP was released 8 years ago. You'd think that Mr. Perry would have more resources at hand in order to make a movie that, at the very least, looks like it was meant to be released a feature-length film and not just a crappy TV movie. But that's where we are here. And that isn't even the biggest problem I have with the movie. Of course, and here we go, the biggest problem is the scripting, the dialogue and the story. All of these movies have the same characters. There's usually a mouthy teen that Madea has to set straight. Madea is still running from the police. There's still a focus on the church and god and all that preachy stuff. There's also a lot of casual talk about how beating your kids is actually good for them and how they turn to drugs, crime, etc if you don't hit them. That scene was pretty disgusting all things considered. But, thankfully, the film doesn't feature a melodramatic plot. It features Brian, Perry's normal character, finally standing up for himself to his daughter, who does what she wants when she wants. You've seen it all before and it's as poorly-written here as it has been in Perry's movie forever. The messages are simplistic. The cast is ok at best. Perry is good as Made and Uncle Joe, but the fact of the matter is that the shtick is getting old. He's been doing this character since 1999, when Madea debuted in a play. That's TWENTY years of the character. Twelve years on film. At some point, the character is gonna start to wear thin, if it hasn't already. And there's not much room for the character to grow considering that Perry has already established her traits and any variation from that will alienate his fanbase. I'd say that at this point in Tyler's career, he turns 48 in September, there's no hope for him to actually improve. And I don't think he even wants to get better. He's found what he's successful at and he's gonna keep milking that cow until he doesn't want any more money. And I don't mean just Madea, he's just found what his fans like, whether it's Madea-related or not, and all he has to do is keep pandering to that. The fact that he's still massively successful, despite operating in his own little bubble without actually expanding, is a testament to that. And all the more power to him, I don't begrudge him his success at all. It's just the fact that I wish he'd put more of an effort into telling great stories as opposed to the stories that his fans want to see out of him. But, as they say, if it ain't broke, don't fix it. And this movie is the perfect example of that, it follows the same formula Perry has employed for over a decade. You know the definition of insanity? Doing the same thing over and over again and expecting different results. That doesn't apply to Perry. He knows he makes crappy movies. This one is no different. Only watch if you're a hardcore Perry fan. Non-converted audiences will see just another crappy Tyler Perry movie, so don't watch.
Jesse Ortega
Super Reviewer
Tyler Perry is an industry unto himself, and the face of that industry is his matriarchal force of nature, Madea, the trash-talking, advice-giving woman of fear and esteem. I don't know if I'll ever truly enjoy Perry's Madea movies, and I fully admit being outside the target audience, but I think I'm coming around on the Madea character and in particular Perry's broad comic performances. Boo! A Madea Halloween is a flimsy excuse to re-introduce Madea and her elderly gang of colorful cohorts, including her gruff brother Joe (also played by Perry). The movie seems to barely have enough plot at all, aimlessly revolving around Madea babysitting a pair of teen girls on Halloween and thwarting them from going over to a nearby fraternity party. There's perhaps a 10-15 minute segment that just... keeps... going involving Madea and her friends literally advising a weak-willed father (also Perry) to enforce discipline and beat his child. As a writer, Perry relies too heavily on transparently expository writing in between his funny. The story keeps circling around on itself, stretching the improv jags with diminished returns and needing more comic set pieces for a 100-minute running time that could clearly be trimmed. Perry directs his actors much like his plays as they go for broke, playing to the rafters. However, Perry as actor, especially as Joe and Madea, is an enjoyable and quite credible comic performer who definitely displays surefire instincts. I found myself laughing enough even during the more aimless lulls in conversation. The plot doesn't have to be David Mamet when you just unleash Madea on others. I appreciated that she's a moral authority who is also shamelessly irreligious and hypocritical. The character manages to beat down some of Perry's more misogynistic and moralizing tendencies as a writer. Her former stripper past comes out in entertaining ways like trying to stop herself dancing during a hip-hop track at the frat party. The conflicting physicality on display in the scene is terrific. Boo! A Madea Halloween is going to be candy for its intended audience, and for those willing to push through the expected negative reviews, you might find enough moments to enjoy. I'm not going to say I'm on Team Madea but I wouldn't necessarily mind more of this matron run amok. Nate's Grade: C
Nate Zoebl
Super Reviewer
Tyler Perry really went cheap with this
Jacob Smith
Super Reviewer
Tyler Perry's Boo! A Madea Halloween Quotes
There are no approved quotes yet for this movie.