U-571
(2000)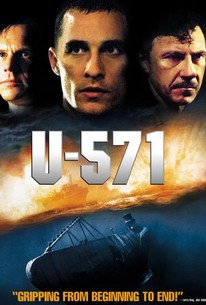 TOMATOMETER
AUDIENCE SCORE
Critic Consensus: Excellent cinematography and an interesting plot accompanied by a talented cast and crew make U-571 a tense thriller.
Movie Info
In this World War II action thriller, American reconnaissance agents learn that a German submarine is sinking. The doomed ship carries an Enigma Machine, a special coding device that allows high-level Axis forces to send messages that can't be read without a similar encryption mechanism. Obtaining a working Enigma device would be invaluable for the Allied war effort, so a U.S. sub is sent out to rescue the machine. However, German forces have already picked up the sub's distress signal and are en route to rescue their comrades. U-571 features a distinguished cast, including Matthew McConaughey, Bill Paxton, Harvey Keitel, and Jon Bon Jovi.
News & Interviews for U-571
Audience Reviews for U-571
Well this caused a hullabaloo upon release, such a big hullabaloo that it even involved our British Prime Minister, some MP's and eventually President Clinton! I do recall at the time that Britain was not too pleased about the historical rigging so Clinton had to smooth things over, was quite the headline. Anyway if you can see past the huge numerous historical inaccuracies this wartime submarine thriller is pure adventure and action in a real boys own way. I don't mean to take anything away from the real memory of the maritime war effort but this really is a rollicking good fun film that will grab you and not let go. A gripping plot surrounding the need to capture the Enigma cipher machine of the German U-boat U-571. The crew of the US S-33 are sent in disguised as a German U-boat to infiltrate U-571 and capture the machine without anyone ever knowing they were there. Of course things don't go to plan and this is where the thrills begin as the US crew fight to remain undetected and escape with their valuable cargo. At first the film isn't overly impressive visually, seems to cozy, but as the story progresses things seem to get better, probably due to the moisture, sweat, heat and dirt buildup on crew and set. External visuals are lovely as we get many excellent pan shots of a real sub ocean bound with people on board (not sure whether they are the actual actors). Like other sub flicks ('Crimson Tide') most of the film takes place inside the German U-boat. Not as stunning or large as interior shots in said Scott flick but naturally size/tech varies between subs of then and now. What you do get is a very tight cramped experience which really offers an insight into how these boys lived in these tin cans. Realism is assured and is enough to give anyone a fear of confined spaces, the constant dripping from pipes and seals would do it for me. Cast is quite a unique mixed bag here too. 80's action men Paxton and Keith are reunited after 'The Lords of Discipline', Keith looking the slick Bond type in his turtle neck and leather coat, a bit cliched maybe. Other main leads went to hard man Keitel alongside wannabe action hero/romcom regular McConaughey. British actor Weber struggled to maintain his US accent which unintentionally gave me some chuckles. Of course one noteworthy element was the inclusion of Jon Bon Jovi in the cast, I think his first major role in a proper major flick. At the time most did ask why they couldn't have found a real actor for the role, his presence certainly made you wonder about the films credibility before release, a rock star in a legitimate war film? So with a mixed bag of various actors from various genres the film still managed to be one of the best war thrillers I've seen in a long while. Like I said the sub interior sequences are perfect and capture the hellish mood whilst the few special effects are nicely done and not over the top. Musical score doesn't quite hit the emotions as well as other war films, not overly memorable. Despite the Americanisation of the truth this film still wins and delivers a ripping yarn alongside a good dedication to the real men of the time. Love the films poster also.
Phil Hubbs
Super Reviewer
½
This star vehicle, set in WWll, actioner has the Yanks stealing a disabled German sub in the mid-Atlantic (much as the producers hope to steal the thunder of Das Boot). Plenty of macho posturing ensues. There are better WWll sub flicks out there. Das Boot comes to mind.
Kevin M. Williams
Super Reviewer
½
Despite its impressive cast and collection of gripping scenes, 'U-571' proves to be just another film trying make its mark on the genre. Problem is, its forgotten as soon after its seen. It flounders under unrecognizable military dialogue that makes it somewhat difficult to follow, making it easy to lose interest halfway through. It delivers on many aspects on the genre and almost accomplishes what it was meant to. But it falls too short, and fails to be a significant WWII thriller.
Kase Vollebregt
Super Reviewer
U-571 Quotes
There are no approved quotes yet for this movie.