U, Me Aur Hum
(2008)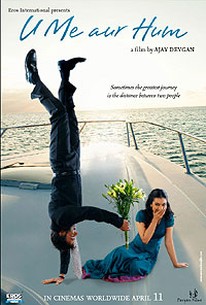 Movie Info
The first time Ajay saw Pia, she served him drinks. She affected him more than the alcohol, and he found true love. He was a leading psychiatrist, but she messed up his mind. The first time Pia saw Ajay, he had had too much to drink. She watched him make a fool of himself, and was relieved when he passed out. She was a woman who followed her heart, but despite his claims of true love, she had made up her mind. Thus began the story of Ajay and Pia.
Critic Reviews for U, Me Aur Hum
Audience Reviews for U, Me Aur Hum
The story was amazing and heart breaking. Really liked this movie.
Dead Angel
Super Reviewer
While the trailer disappointed me, the movie didn't. Great directorial debut by Ajay Devgan.
familiar stranger
Super Reviewer
An exceptionally, amazing movie with a brilliant story plot by Ajay Devgan. Here's a movie about two who meet, fall in love, marry, and begin a life together. Ajay (Ajay Devgan) falls instantly in love with Piya (played by his wife, Kajol Devgan), at first sight on a cruise ship where she is a waitress at a bar. After buying a round of drinks, he is smitten and decides to win her love. He embarks on a swift journey where he learns salsa, buys her favorite kind of chocolates, gets a dog, and changes his entire home. It is months after their marriage, when Piya starts to forget things collectively and a sudden event causes them to see a doctor. It is there that Ajay learns Piya has an early set of Alzheimer's, and decides to care for her and their unborn baby. Several months after, a certain life-threathening event occurs and it leads him to make the final decision for the safety of his child and his wife: he decides to send her to a patients facility where she will be entirely cared for. But suddenly, he realizes he is nothing without her in his life, and also acknowledges that it is his 'sacrifice' and duty to love, and care, for Piya no matter what. ~~~~~~~~~~~~~~ It is quite clear that one can see the actual love that exists between husband and wife, as they portray in their characters in this movie. Great chemistry that is beautifully detailed between the two, and thus creates a remarkable drama. Fantastic music, especially the title track: "U Me Aur Hum" (You, me, and us). It beautifully details the self-sacrifices one makes for another in the name of love. This is by far, a great movie directed by Ajay Devgan. Hope to see more of his works. ~~~~~~~~~ A movie definitely worth seeing.
U, Me Aur Hum Quotes
There are no approved quotes yet for this movie.