UHF
(1989)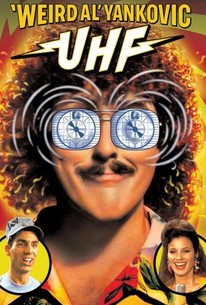 Movie Info
When a desperate UHF station gives the seriously odd George the job of manager, he proves to be a programming genius, turning the station around -- and attracting the attention of an unscrupulous competitor. This comedy focuses most of its creative attention on numerous bizarre television parodies featured throughout.
News & Interviews for UHF
Audience Reviews for UHF
'Weird Al' Yankovic is primarily a comedic songwriter and parody musician, but in his first instance of movie stardom, he shines brighter than ever. During the eighties the absolute best parody films were made, including Leslie Nielsen's "Spy Hard" and "Naked Gun", Mel Brooks' History of the World Part One, and a bevy of other films that were both cheesy and highly enjoyable. Yankovic is best known for his re-workings of popular songs, and here he takes stabs at other films, including "Raiders of the Lost Ark," "Treasure of the Sierra Madre" and "First Blood." Besides all the mentions of famous films, there are some very original laughs to be had with Yankovic's off brand and zany humor. His acting is surprisingly focused and his character comes off as charmingly befuddled throughout. Besides a controlled performance from Yankovic there is a highly talented cast assembled: Fran Drescher pre-Nanny fame shows up as the outspoken secretary turned reporter, Michael Richardson pre-Seinfeld busts out as a kooky janitor turned children's TV show host, and Victoria Jackson plays Weird Al's responsible girlfriend. The premise of the film isn't all that out there, as Weird Al plays George Newman, a down and out man at the middle road in his life eventually getting the manager's position at a local UHF station. He makes the station popular with weird shows that generate a lot of buzz, but he has to stop the maniacal competitor who is trying to buy the station out from under them. It's sweet, spontaneous, and pretty much the epitome of classic comedy film, so if you haven't given it much credence beforehand, do so now.
Spencer S.
Super Reviewer
½
If you love weird Al songs, you have to see this movie! It's so much fun, it has a bunch of movie and TV spoofs featuring him, within another funny story as well. It's cool.
goofy and very hysterical, you have to be in the right mood to watch it because its so silly, but hey that's Weird al in a nutshell
Michael Edwards
Super Reviewer
UHF Quotes
| | |
| --- | --- |
| Joe Earley: | Is my face red? Oh, this almost NEVER happens! |
| Joe Earley: | Is my face red? Oh, this almost never happens! |
| Joe Earley: | Is my face red? |
| | |
| --- | --- |
| Gandhi: | Gimme a steak. Medium rare. |
| | |
| --- | --- |
| Stanley Spadowski: | I'm thinkin' of something orange. Something orange. Give up? It's an orange. |
| Stanley Spadowski: | Ok, now I'm thinkin' of something blue. Something bluuuuuue. |
| | |
| --- | --- |
| Stanley Spadowski: | toy inside toy inside |
| Stanley Spadowski: | Free toy inside! |