Ultimate Avengers II
(2006)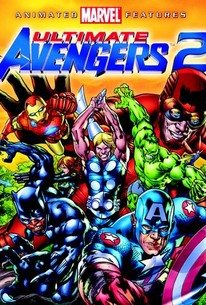 AUDIENCE SCORE
Critic Consensus: No consensus yet.
Movie Info
Ultimate Avengers 2 features famous superheroes Thor, Captain America, the Hulk, Iron-Man, and Black Panther teaming up in order to put an end to an alien invasion of Africa. This story is based on the comic book The Ultimates.
News & Interviews for Ultimate Avengers II
Critic Reviews for Ultimate Avengers II
Audience Reviews for Ultimate Avengers II
A very lacklustre sequel in almost every way possible, "Ultimate Avengers 2: Rise of the Panther" delivers on it's title character, but fails to feel like an Avengers film and more like a Black Panther film, which was cool for the first 10 minutes, but it just got boring and repetitive and by the end, there was nothing shown in this picture that was not in the previous instalment. With characters that are not as interesting as the main Avengers and side plots that might as well be cut right from the film, "Ultimate Avengers 2: Rise of the Panther" is sloppily put together so that Marvel can pump out an unnecessary sequel to a film that never needed one in the first place. Overall, there are some fun action moments, but you will not remember this film for very long. I am already forgetting the highlights of it...
½
Better than the first "Ultimate Avengers" movie, but not as good as some of DC's cartoon movies. The animation is the exact same as the first one, and provides some great actions scenes. I liked the storyline with Bruce Banner, just wish there was more of it. The Panther was just ok, didn't really bring much to it other than a new character. Don't think there is a third cartoon movie, but if they make one I hope they make it longer(this is only 73 minutes long) and better. DC's movies flesh out their characters and push the envelope. This plays it safe and really doesn't give you a chance to care for any of them. Still can't wait for the live action movie!
Everett Johnson
Super Reviewer
Runs in the same vein as the first film. It's not worse, (or maybe it is depending on what you were looking forward to) but it's definitely not better either. I should just stop reviewing animated superhero films from Marvel. Clearly their demographic falls in the tweens area.
Drake Tsui
Super Reviewer
Ultimate Avengers II Quotes
There are no approved quotes yet for this movie.