Ultramarines: A Warhammer 40,000 Movie
(2011)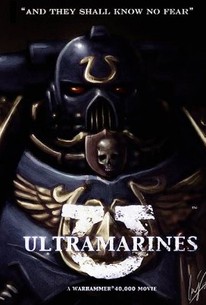 AUDIENCE SCORE
Critic Consensus: No consensus yet.
Ultramarines: A Warhammer 40,000 Movie Photos
Movie Info
"Ultramarines: A Warhammer 40,000 Movie" takes place in the vast, dystopian science fantasy setting of Games Workshop's table-top strategy war game, Warhammer 40,000. Spanning a huge fictional universe, the Imperium of Man -- a decentralised but totalitarian interstellar regime -- interacts with various factions and races of aliens, including the Tau, the Eldar, the Necrons, the Tyranids and the Orks, battling against the forces of evil, the Daemons of Chaos who live in a parallel dimension, the Warp.
Critic Reviews for Ultramarines: A Warhammer 40,000 Movie
All Critics (1) | Fresh (0) | Rotten (1)
It feels like one long extended cut scene from a videogame, probably a PC game dating from a decade or so back considering how clunky the animation is . . .
Audience Reviews for Ultramarines: A Warhammer 40,000 Movie
½
Okay, so, full disclosure? I'm a straight up nerd. I've been collecting Warhammer since Primary School, and I've still got a Chaos Marine army in the works right now. 40K is my favourite of the three main Games Workshop fields, so a Warhammer 40,000 film was not something I could let myself miss out on. That said, it's been out for a whole two years, and I only watched it today. Although I've been very excited for it, I think I kept finding excuses not to, because I was just so, so certain that it was gonna blow. And, I guess it did blow a little, but that's the great thing about having such low expectations, you're not disappointed, and when something's even remotely decent in some aspects, a big deal! Nearly 90% of the issues that Ultramarines had can be chocked down to the poor quality of its animation. I'll never understand how the CGI in Warcraft III was so fantastic all the way back in 2002, and yet 10 years later we're still spewing out a load of crap that pales in comparison. Other than the animation though, Ultramarines was a decent enough watch. It was not hugely long, and I can imagine that anybody who is not familiar with the 40K universe would be having a lot of trouble understanding just what the Hell was going on. This isn't necessarily a bad thing though. Sure, pandering to pre-existing fans totally limits your marketing base, but if the die-hard fans doesn't like what you do on something as cult as a Games Workshop product, then you may as well have not bothered, 'cause you're nailing that coffin shut after your first shot. Again though, I cannot speak for someone who's never immersed themselves in the 40K mythos, so this review is accurate for those like me, who have. Best of all, the voice actors were all damn fine, solid choices. Terence Stamp (Elektra, The Adjustment Bureau) as the Ultramarine Captain Severus was probably the best of the bunch; though John Hurt (Alien, Hellboy) as Imperial Fist Chaplain Carnak and a personal favourite of mine, Sean Pertwee (Dog Soldiers, Doomsday) as Ultramarine Sergeant Proteus were both brilliant to hear. At the end of the day, Ultramarines changed no lives, challenged no conventions, and brought tears to exactly zero eyes. What it did do though, hypothetically and hopefully, is to pave the way for a slew of Warhammer films, maybe get some Night Lord mythology up and running, or see Sigmar make it to the screen. Ultramarines proves that, though there's room for improvement, there's room for improvement. It's not a dead end venture. And that was really the only way that it could truly have failed, so kudos. 48% -Gimly
Ultramarines: A Warhammer 40,000 Movie Quotes
There are no approved quotes yet for this movie.