Umrao Jaan
(2006)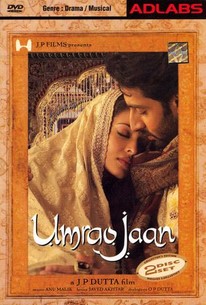 AUDIENCE SCORE
Critic Consensus: No consensus yet.
Movie Info
"Umrao Jaan" unveils the injustices faced by women and advocates their emancipation. Set in late 19th-century India, the film tells the story of Umrao Jaan, a courtesan and poetess who was kidnapped as a child and sold into the country's prevalent culture of courtesanship. Umrao becomes popular amongst Lucknow's elite, including a nawab, a childhood friend and a dacoit with whom she attempts an escape from her brothel.
Critic Reviews for Umrao Jaan
Audience Reviews for Umrao Jaan
With sincere apologies to all my flixster friends who are huge Bollywood fans . . .
Walter, I say, with great guilt, that I could not bear another syllable of this one. Not another frame, not another cut, not another jot, not another iota.
In fairness to me, I have been on an all-Bollywood, all-the-time crusade recently, so you'll see how highly, if you check my history of reviews, I've rated some BW product.
Seriously, Walter, I was climbing the walls a few minutes into this one.
I'm sure, because I'm a long-time flixster supporter to the bitter end, upholding the flixsterian democratic ideal that we are all entitled to our own opinions, no matter how narrow and inflexible they may be, that this one will most assuredly get big star ratings from other flixsters -- just not from me.
It's another one, Walter, for our list.
Please feel free to label me old, insensitive, and unbending, if you will, but I tried. I truly gave it the "old college" try. Just as with tripe like so-so Blue, or actually decent White -- the best one in a threesome of not-often-under-gushed-about fodder --, and seriously-most-disappointing and wholly vacuous color-trio buddy Red.
I really, really, really tried, Walter. But, as you know even way up there in the far East-North, time is precious, and life is short.
I mean it: long live GOOD Bollywood.
Lanning : )
Super Reviewer
½
An amazing movie! Loved it! Brought tears to my eyes.
Umrao Jaan Quotes
There are no approved quotes yet for this movie.