A Heart in Winter (Un coeur en hiver) (A Heart of Stone)
(1993)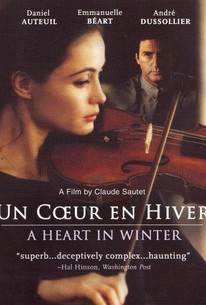 A Heart in Winter (Un coeur en hiver) (A Heart of Stone) Photos
Movie Info
Stephane and Maxime are partners in an upscale violin restoration business, but their relationship becomes complicated when Maxime's girlfriend, a concert violinist, realizes she loves Stephane. Haunting sonatas by the composer Ravel heighten the emotionality in this elegant French film about the strange ways of the human heart.
Critic Reviews for A Heart in Winter (Un coeur en hiver) (A Heart of Stone)
All Critics (13) | Top Critics (3) | Fresh (11) | Rotten (2) | DVD (2)
Un Coeur en Hiver, directed by Claude Sautet, has the intensity and delicacy of a great short story.

A compelling, intricately structured, and beautifully acted psychodrama.
The real story in this movie is Daniel Auteuil's shattering performance.
Audience Reviews for A Heart in Winter (Un coeur en hiver) (A Heart of Stone)
"Music is the stuff of dreams." Despite the implications within the title, I was not expecting such austerity. The heart under examination belongs in fact to withdrawn luthier Daniel Auteuil and is the object of frustration to his business partner's mistress, violinist Emmanuelle Beart. Usually those roles are the other way around, at least in American films, so that represents something of a divergence. Auteuil is a master at his profession and draws all of his satisfaction in life from his work and the sounds his instruments create. He is not a recluse but cannot open up to anyone and finds no value in emotional attachments. Through no fault of his own devising, he eventually finds himself at odds with his closest associates. The message seems to be that if you repress your ability to feel emotion, you're actually hurting yourself even worse. In fact Auteuil expresses a line to that effect in her apartment. The final shot of Beart pulling her eyes away from the cafe window where Auteuil sits as her car drives off is rather haunting and we are left in his shoes wondering what could have been. Other than violin passages at rehearsals and recording sessions, there is interestingly no soundtrack so we feel the same cold vacant space that Auteuil otherwise occupies. Although I have long suspected, I am now convinced enough to put in writing: Emmanuelle Beart is the most beautiful actress since Grace Kelly. And watching a beautiful woman playing beautiful music is my idea of heaven on earth. She practiced the violin every day for one year to prepare for this role, and the results pay off - naturally they overdubbed in postproduction (one year doesn't turn you into a virtuoso) but she actually plays all the complicated pieces and convincingly demonstrates that she could handle them.
Doctor Strangeblog
Super Reviewer
½
Good, but slightly unengaging film about a violin player (Emmanuel Beart) who becomes romantically involved with a man and then realizes she is falling for his emotionally distant business partner. I would assume the disengagement is intentional, as it does fit with the general theme of the movie. Not a terrible lot happens, the actual story is slight. It is, however, beautifully filmed and well cast with a lot of violin music thrown into it. (Not personally a fan, but even to me it sounded pretty good). There is also no nudity in this, so those looking for a French film of a particular type probably need to look elsewhere! This is a decent story dealing with emotional coldness, but it will definitely not appeal to all, so I would recommend, but with caution.
Nicki Marie
Super Reviewer
This is one of the most fascinating movies I've ever seen. I don't think I've ever seen an impossible love story like this one before: a woman falls in love with a man she can't have because he doesn't have the capacity for emotion. I found Stephane mesmerizing as an emotional zombie, and I was very happy that the filmmakers weren't tempted to portray his "wintry" heart as a desire to be cruel (which is how it is usually put onscreen). The damage he inflicts upon Camille is utterly accidental and nobody's fault, which makes it all the more tragic. I really relished the fact that Stephane's deadness is imperceptible to most people and in most situations, and that it might be the reason why he is the craftsman of violins, not thier player. So sad then that Camille ends up in the one situation where she would feel the full brunt of his void. I also loved the way his dying mentor recognizes his dead, hollow spot and finds a use for it in a single situation. I wish that theme were present in more films.
Emily Armstrong
Super Reviewer
A Heart in Winter (Un coeur en hiver) (A Heart of Stone) Quotes
There are no approved quotes yet for this movie.