Un, deux, trois, soleil (1, 2, 3, Sun)
(1993)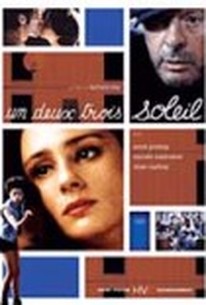 AUDIENCE SCORE
Critic Consensus: No consensus yet.
Movie Info
This experimental drama is something of an actor's challenge: see if you can convincingly play an age range from six to thirty six without any makeup or costume changes, just by using your gifts as a performer. In this film, the role of Victorine poses just such a challenge to Anouk Grinberg, who appears as this child of the Marseilles slums. At any moment in the film, she is likely to be any age. The young girl cowering at her mother's feet becomes a sexual wunderkind, as well as observing the bizarre and often sexual antics of her multiracial neighbors. If there is one theme for the movie beyond Victorine's odd life, it is that everyone needs affection and support. ~ Clarke Fountain, Rovi
Critic Reviews for Un, deux, trois, soleil (1, 2, 3, Sun)
Audience Reviews for Un, deux, trois, soleil (1, 2, 3, Sun)
½
In "Un Deux Trois Soleil," Victorine(Anouk Grinberg) gets into an argument with her mother(Myriam Boyer) on the way to school, resulting in her not going while her mother takes her place and yells at the teacher(Denise Chalem) about her problems. Surprisingly not having died from embarrassment, Victorine goes to the rescue of the teacher who seeks protection from the youths who were intent on assaulting her just previously. In the melee, Sergeant Boigny(Charles Schneider) shoots a youth who is riding in a stolen car who is then taken to his wife Gladys(Irene Tassembedo) for some tender loving care which makes him feel much better. The trick with enjoying "Un Deux Trois Soleil" is remembering not to take any of it literally. At first, everything might seem off but it eventually becomes clear what is going on once the fourth wall is demolished when the characters address the viewer directly. The events we see are how Victorine remembers them, as she is always in the body of an adult, even while mentally she is a teenager and starting to discover the opposite sex, while only looking to be comforted and loved.(Don't we all?) Then, there is her father(Marcello Mastroianni) who is old because that's how she remembers him, as his memory is shot from so much drinking. And all of this is complicated by the exaggerated fears of some people of a multicultural France and what that does to their perceptions.
Un, deux, trois, soleil (1, 2, 3, Sun) Quotes
There are no approved quotes yet for this movie.