Unaccompanied Minors
(2006)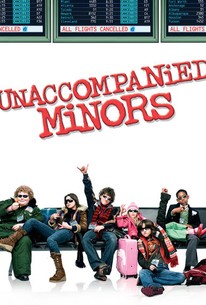 TOMATOMETER
AUDIENCE SCORE
Critic Consensus: Unaccompanied Minors, while featuring credible performances by its mostly young cast, is simply a rehash of other, funnier movies.
Unaccompanied Minors Photos
Movie Info
A handful of kids stranded without their parents is determined to make the most of a bad situation in this comedy. It's Christmas Eve, and Oliver Porter (Lewis Black), the passenger relations manager at a busy airport in the Midwest, is looking forward to spending Christmas in Hawaii with his wife after 15 years in a row working on the busy Yuletide holiday. However, fate conspires against him when a massive snowstorm sweeps in and all flights are canceled. Porter suddenly has to deal with a number of stranded passengers, including six tween-age kids who are each flying unaccompanied from one divorced parent to another -- spoiled little rich girl Grace (Gina Mantegna), geeky but likable Spencer (Dyllan Christopher), his pesky little sister Katy (Dominique Saldana), plus-size comic book fan Beef (Brett Kelly), grumpy tomboy Donna (Quinn Shephard), and bright but mischievous Charlie (Tyler James Williams). With his hands full and determined to make his way to the islands, Porter puts his assistant Zach Van Bourke (Wilmer Valderrama) in charge of the kids. Zach doesn't care for this assignment and the kids don't care for him, and before long they've escaped from the basement conference room where he's stashed them and turned the airport into their playground. Unaccompanied Minors also features Paget Brewster, Rob Corddry and Teri Garr. ~ Mark Deming, Rovi
News & Interviews for Unaccompanied Minors
Critic Reviews for Unaccompanied Minors
Audience Reviews for Unaccompanied Minors
½
Good for a kids film, but if your not into that sort of thing, then don't even bother to watch the opening credits!
½
"Six kids, snowbound in an airport without supervision. Someone please call security!

A snowstorm has cancelled all flights at Hoover International, and all are stranded. That's bad news for most. But for children shuttling unaccompanied from one place to another, its a ticket for adventure!"

Warning! Unless you want yourself and the kids to go to sleep, stay away from this!

I know its a kids film... But I thought this was just flat out lame. I was expecting to watch clean fun chaos, but this had no originality, no interesting kiddie escapades, an insult to every rich girl there is, and please dont tell me parents these days let their kids have that "Jon Bon Jovi" hairstyle! --- If theres any consolation to watching this, you get to see Wilmer Valderrama (Fez, That 70's Show) on screen again, but he just plays a character that goes in and out of the movie, and even his lines were weak and recycled. Theres also a couple of dancing scenes where Tyler James Williams (kid from Everybody Hates Chris) shows off his funky side, but other than that.. There really isnt much to get from this flick.


It really is just a kids version of The Breakfast Club IN The Terminal, except... those two movies were atleast good. Youre better off watching something else.
Now if you would excuse me, I have to whap my head for getting this thing...
Directed by: Paul Feig
Genres: Comedy, Kids & Family
I love this funny Christmas family movie in the airport I ever watched since Home Alone series. I couldn't stop laughing at the scene of 4 kids and a flight attendent riding in a canoe on a snow hill from the airport to the hotel while the head of Passenger Relations and his security guards are also on after them. COOL!
Dean McKenna
Super Reviewer
Unaccompanied Minors Quotes
There are no approved quotes yet for this movie.