Unaccustomed As We Are
(1929)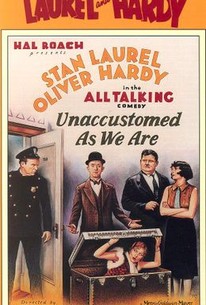 AUDIENCE SCORE
Critic Consensus: No consensus yet.
Unaccustomed As We Are Photos
Movie Info
Although the title of Laurel and Hardy's very first sound film is a joke on the phrase, "Unaccustomed as we are to public speaking," it already shows a firm grasp of the comic potential for sound. The boys, and the writers and directors of their films, realized that more than dialogue was necessary for a successful two-reeler. Techniques such as off-stage sound effects add richly to the visual and verbal humor of this and subsequent Laurel and Hardy films. This one starts off with Ollie bringing Stan home for dinner. Mrs. Hardy (Mae Busch) is fed up cooking for her husband's friends so she goes home to mother. With Ollie working on dinner and Stan helping, it is no surprise that the stove explodes. A neighbor, Mrs. Kennedy (Thelma Todd) comes in and tries to help; instead her dress catches fire. Wrapped only in a sheet, she begins to make her way home, but her policeman husband (Edgar Kennedy) arrives just then. Afraid of his reaction, Mrs. Kennedy hides in Ollie's trunk instead. Now the boys have to hide the contents of the trunk from both Mrs. Hardy (who has returned) and Mr. Kennedy, who has come by because of all the commotion that is going on. Eventually Mr. Kennedy finds out that there is a woman in the trunk (but not that it's his wife), and he offers to take the trunk to his place. While doing this, he sagely lectures them on being discreet -- like he is. This inflames the hidden but all-hearing Mrs. Kennedy, and she wreaks havoc on her husband once Stan and Ollie are gone. The bruised and battered Mr. Kennedy comes back to Ollie's and beats him up in the hallway. Then, once he's done with Ollie, he calls for Stan. But before he can lay the first blow, Mrs. Kennedy knocks him out with a vase. Stan, unscathed, goes back to Ollie's, picks up his hat and leaves. Ollie stares in disbelief at the unconscious Kennedy and Stan trips and tumbles down the stairs.
Critic Reviews for Unaccustomed As We Are
There are no critic reviews yet for Unaccustomed As We Are. Keep checking Rotten Tomatoes for updates!
Audience Reviews for Unaccustomed As We Are
½
A funny movie, but the story could be better. Overall enjoyable, though.
Unaccustomed As We Are Quotes
There are no approved quotes yet for this movie.