The Unbearable Lightness of Being
(1988)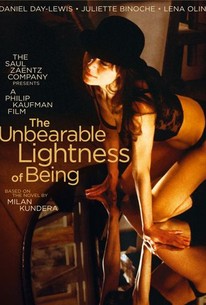 TOMATOMETER
AUDIENCE SCORE
Critic Consensus: Exploring sexual mores against the backdrop of real-life social upheaval, The Unbearable Lightness of Being artfully blends the political and the erotic.
The Unbearable Lightness of Being Photos
Movie Info
In Philip Kaufman's surprisingly successful film adaptation of Czech author Milan Kundera's demanding 1984 best-seller, Daniel Day-Lewis stars as Tomas, an overly amorous Prague surgeon, while Juliette Binoche plays Tereza, the waiflike beauty whom he marries. Even though he's supposedly committed, Tomas continues his wanton womanizing, notably with his silken mistress Sabina (Lena Olin). Escaping the 1968 Russian invasion of Prague by heading for Geneva, Sabina takes up with another man and unexpectedly develops a friendship with Tereza. Meanwhile, Tomas, who previously was interested only in sex, becomes politicized by the collapse of Czechoslovakia's Dubcek regime. The Unbearable Lightness of Being may be too leisurely for some viewers, but other viewers may feel the same warm sense of inner satisfaction that is felt after finishing a good, long novel.
News & Interviews for The Unbearable Lightness of Being
Critic Reviews for The Unbearable Lightness of Being
Audience Reviews for The Unbearable Lightness of Being
Love, sex, politics, growth - a lot is packed into this movie. I do agree with those who think the film is a little long.
½
The Unbearable Lightness of Being is a gorgeous adaptation of Milan Kundera's novel of the same name (one of my favorite books). It's the story of Tomas, a surgeon living in Prague in the 1960s. He feels life is light and that his actions have weightless consequences. He goes through life fleeing anything that might put weight on him: he's a womanizer who runs away from the slightest form of committment, and an intelligent man who nevertheless avoids assuming a politicial position outspokenly in a time in which that was an almost obvious thing to do for any thinking citizen. Tereza, played by Juliette Binoche, is a countrygirl who falls in love with Tomas. She thrusts her weight on his life when he can't help falling in love with her and making her a part of his life. The film focuses, mainly on the conflict between Tomas's idea of a weightless life and Tereza's impossibility of understanding that philosophy. Tereza thinks everything is of consequence and she struggles to liberate herself from wieght, while Tomas can't help but feeling life is light and struggles to accept Tereza without sacrificing his "infidelities". It's a very interesting drama, and the way it unfolds is captivating. Without being overly sentimental, TULB manages to show the dynamics of a relationship between two people in love who simply can't come to an agreement about how to interpret the aggressive world around them, but who nevertheless try hard to make it work. The tense, oppressive atmosphere of 1960s Czechoslovakia, the Russian occupation, the persecution of intellectuals, is present as the threatening backdrop for the love story. It's especially heavy on Tomas, who keeps rejecting the notion that anything may be worth troubling oneself for until the persecution reaches him too. Lena Olin plays Sabina, Tomas's best friend and lover who shares his idea of a world without weight. She never ever succumbs to anyone's weight, and finds an ending in accordance to her pursuit of lightness. Although these (Kundera's) ideas may seem complicated or way too abstract for a movie, they are well exposed and every scene conveys them really well. I do prefer the book to the film, but this adaptation has its own charm. The cinematography is breathtaking and the performances are great from all the cast. Daniel Day-Lewis was perfectly cast as Tomas, and I couldn't think of anyone with the right amount of both vulnerability and strength better than Juliette Binoche to play Tereza. The Unbearable Lightness of Being is a beautiful movie that can also provoke thought (wow) and be visually seductive and engaging. It's dramatic and funny and serious and naive all at once. It's romantic, and sometimes sad. And it's a faithful adaptation of the book. Couldn't ask for more.
½
It was more like ?the unbearable anticipation that the end of the film will be soon?! This film seemed to go on forever, without any excitement, in fact, this has to be one of the dullest films ever made and that?s uncharacteristic of both Daniel Day Lewis and Juliette Binoche.
Lady D'arbanville
Super Reviewer
The Unbearable Lightness of Being Quotes
| | |
| --- | --- |
| Tomas: | Don't worry. I'm a doctor. |
| | |
| --- | --- |
| Tereza: | In Prague, I only needed you for love. In Switzerland, I was dependant on you for everything. |
| | |
| --- | --- |
| Tereza: | Life is very heavy to me and it is so light to you |
| Tereza: | Life is very heavy to me and it is so light to you. |
| | |
| --- | --- |
| Tereza: | There is love and there is sex and sex is entertainment like football. |