Unbreakable
(2000)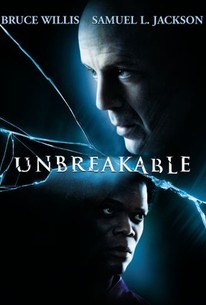 TOMATOMETER
AUDIENCE SCORE
Critic Consensus: With a weaker ending, Unbreakable is not as a good as The Sixth Sense. However, it is a quietly suspenseful film that intrigues and engages, taking the audience through unpredictable twists and turns along the way.
Movie Info
Unbreakable is a riveting story shared by two men. David Dunn, a man from a blue-collar neighborhood in Philadelphia emerges unharmed as the sole survivor of a devastating train accident. Enter Elijah Price, a mysterious stranger who offers a bizarre explanation as to why David escaped without a single scratch, an explanation that threatens to change David's family and life forever.
News & Interviews for Unbreakable
Critic Reviews for Unbreakable
Audience Reviews for Unbreakable
many consider this one of Shymalans weakest films but I think its his best. What I mean is that while the Sixth Sense is okay, and very innovative, it just doesn't hold a candle to this film, and don't get me started on Signs. The films is also much easier to sit through than most of Shymalan's films. It delves extremely well into, what if a comic book superhero actually existed. Also the drama is played out fantastically, and Bruce Willis and Samuel L. Jackson work off eachother fabulously. Also the twist is very well done, and very shocking, rather than the Sixth Sense, which its twist was way too easy to tell what it was.
Michael Edwards
Super Reviewer
Shyamalan displays an absolute control of his film and the type of story he wants to tell, making use of many elaborate long takes and elegant camera movements to enhance the tension of his intriguing plot while keeping us always involved even when the pacing seems to slow down.
Carlos Magalhães
Super Reviewer
½
"Unbreakable," in my opinion, represents M. Night Shyamalan simultaneously at his best and worst. With an extremely slow burn building up to the finale, the story goes through exciting and boring sequences, making for a very uneven film. Again, this is just my opinion, but I feel as though these actors (who are all great here) are thinking they are in a better film that what the reality upholds. Born with a defect, David (Bruce Willis) slowly begins to discover that he may have super human abilities that have made him stronger and stronger over the course of his life. Unable to die, he begins to turn his life around after meeting someone who believes in him. With a few nice twists at the end of the film, it is definitely worth watching to savour them. Aside from an intriguing premise, some nice cinematography, and a great cast, it is all about the execution, which I think it kind of failed at. I was not sucked into the story like I thought I would be, but the twist paid off well, which is a bizarre contrast. I enjoyed portions of this film, but I disliked it overall. "Unbreakable" is a solid attempt, but sadly it is a slight miss.
Unbreakable Quotes
| | |
| --- | --- |
| Joseph Dunn: | I'll just shoot him once. |
| | |
| --- | --- |
| David Dunne: | If you shoot me, the bullets will bounce back... |
| | |
| --- | --- |
| Elijah Prince: | They call me Mr.Glass. |
| | |
| --- | --- |
| Elijah Prince: | This is an art gallery, my friend, and this is a piece of art. |