Unbroken
(2014)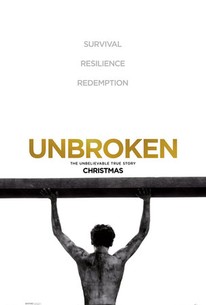 TOMATOMETER
AUDIENCE SCORE
Critic Consensus: Unbroken is undoubtedly well-intentioned, but it hits a few too many of the expected prestige-pic beats to register as strongly as it should.
Movie Info
Academy Award (R) winner Angelina Jolie directs and produces Unbroken, an epic drama that follows the incredible life of Olympian and war hero Louis "Louie" Zamperini (Jack O'Connell) who, along with two other crewmen, survived in a raft for 47 days after a near-fatal plane crash in WWII-only to be caught by the Japanese Navy and sent to a prisoner-of-war camp. Director Jolie began shooting some of the most dramatic and challenging scenes on Wednesday, October 16, on location far out at sea in Moreton Bay, Australia, with Zamperini (O'Connell) and his fellow airmen-Phil (Domhnall Gleeson) and Mac (Finn Wittrock)-having impossibly survived being adrift in the open Pacific for several weeks. Working with cameras on a floating rig in choppy waters and braving the elements, with actors dieting for months to appear as depleted as their characters, Jolie completed a successful first day of a location shoot that promises to be rigorous and uniquely challenging. Adapted from Laura Hillenbrand's ("Seabiscuit: An American Legend") enormously popular book, Unbroken brings to the big screen Zamperini's unbelievable and inspiring true story about the resilient power of the human spirit. Starring alongside O'Connell, Gleeson and Wittrock are Garrett Hedlund and John Magaro as fellow POWs who find an unexpected camaraderie during their internment, Alex Russell as Zamperini's brother, Pete, and in his English-language feature debut, Japanese actor Miyavi as the brutal camp guard known only to the men as "The Bird." The film is produced by Jolie, as well as Matthew Baer (City by the Sea), Erwin Stoff (The Day the Earth Stood Still) and Clayton Townsend (This Is 40). Leading the accomplished behind-the-scenes crew is 10-time Oscar (R)-nominated cinematographer Roger Deakins (Skyfall). Academy Award (R) winners Joel and Ethan Coen (No Country for Old Men) rewrote the screenplay from earlier drafts by William Nicholson (Les Misérables) and Richard LaGravenese (HBO's Behind the Candelabra).
News & Interviews for Unbroken
Critic Reviews for Unbroken
Audience Reviews for Unbroken
½
There are four storylines here and each one would've made a whole film if done originally. Instead they are crunched together, each story cribbing shorthand from other films, each played very big ... and yet you've seen it all before. And that muffles the intent. For instance, there's a direct steal from Jaws in the work. You immediately recognize the steal and watch for it to play differently, but it doesn't. You feel gypped.
Kevin M. Williams
Super Reviewer
½
"Unbroken" is a very well made film but it lacks the emotional heft one would expect. Zamperini is presented almost as a hapless, regular Joe to whom bad things randomly happen, and the primary strategy he seems to employ in the prison camps is not drawing attention to himself and not provoking his tormentors (a strategy seemingly at odds with the scenes shown from his childhood as a brash hoodlum and competitor). Very little attention is paid to showing the internal strength that got him through these terrible times. Since that internal strength is really what makes the story interesting, the film comes across as a lukewarm portrait of an everyday hero and is not very inspirational.
Christian C
Super Reviewer
Ambitious, tastefully filmed, and brilliantly held together by breakout star Jack O'Connell, "Unbroken" marks Angelina Jolie's third directorial film, and although there are many positives about this film, there are also numerous negatives. Clocking in at a near 140-minute running time, the film both brushes too quickly over some of the most inspirational events, and takes it's time to get through the slower moments, to showcase the acting. These choices work in some cases, due to the great casting choices, but the film ultimately suffers from a true story that is unclear whether or not should have been "movie-fied." Angelina Jolie does a fine job directing and the Camerawork is some of the best of 2014, but it just drags too much to keep you invested for very long. Did I enjoy this film? Absolutely, but it's focus is a bit too clumsy narratively, and Visuals may take you out of the picture as well. Overall, "Unbroken" is a powerful film that misses more than it should.
Unbroken Quotes
| | |
| --- | --- |
| Older Pete: | A moment of pain is worth a lifetime of glory. |
| | |
| --- | --- |
| Lou Zamperini: | If I can take it, I can make it. |