Uncle Buck
(1989)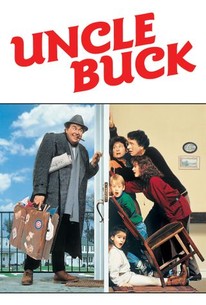 Movie Info
In this cheerful, lightweight comedy, excruciatingly clumsy, disorganized, and messy Uncle Buck Russell (John Candy) becomes the screens most unlikely babysitter since Clifton Webb in Sitting Pretty. While their parents are away, eight-year old Miles (Macaulay Culkin), six-year old Maizy (Gaby Hoffman) and their teen-aged sister, Tia (Jean Kelly) are left in the care of Buck. Surprisingly, the very inept Uncle Buck entertains the younger children who come to love him and earns the respect of Tia when he rescues her from her worthless boyfriend. However, in doing so, Buck nearly loses his long-time girlfriend Chanice (Amy Madigan). John Candy is delightful in the leading role giving a touching and notable comic performance. Directed by John Hughes in his typical broad style, this youth-oriented comedy is perhaps the best role of John Candy's regrettably brief career. ~ Linda Rasmussen, Rovi
Critic Reviews for Uncle Buck
Audience Reviews for Uncle Buck
Uncle Buck is a good comedy from John Hughes, but it is not his best work. John Candy is good here and he brings his zany humor to an average script. I enjoyed Uncle Buck, but compared to other films that Hughes has directed far superior films, and with Uncle Buck, we still see that magic that he has, but his ideas are somewhat lacking, and the film struggles in some areas with the material. There is enough funny bits to make this one worth seeing, and it is a fun and entertaining film that despite it's slow in parts, is never dull due to Candy's always loveable performance. John Hughes' direction is terrific, but at times you can clearly see where the film could have been improved on. Uncle Buck is really funny with a good story and worthwhile performances. If you're looking for a good family comedy to watch, then give this one a shot. John Candy is amusing here, and he makes so-so material better. For me the best collaboration between Hughes and Candy was Planes, Trains and Automobiles, but Uncle Buck still manages to have all the usual elements from a John Hughes movie. The film has a bit of drama thrown into the comedy as well, so you can expect something a bit serious, which is typical of a Hughes movie. Uncle Buck is funny, dramatic and warm hearted all in one movie. However John Hughes has made better movies throughout his career. Candy makes this worth seeing and it is an entertaining film, but it could have been a bit better as well.
Everyone loves Uncle Buck!! ;-)
Thomas Johnston
Super Reviewer
Uncle Buck is a very funny movie, and I love John Candy, but sadly the movie was very boring.
Jim Careter
Super Reviewer
Uncle Buck Quotes
| | |
| --- | --- |
| Miles Russell: | Who are you? |
| Uncle Buck Russell: | I'm your uncle? |
| | |
| --- | --- |
| Uncle Buck Russell: | (showing his axe to Bug) Here it is, come on over I wanna show it to ya. Maybe later? Okay. |
| Uncle Buck Russell: | Here it is, come on over I wanna show it to ya. Maybe later? Okay. |
| | |
| --- | --- |
| Miles Russell: | [to his friends after pulling out horrible food Uncle Buck prepared for him] Would you like to talk about a possible lunch trade? |
| | |
| --- | --- |
| Uncle Buck Russell: | "Get in your mouse, and get out of here." |
| Uncle Buck Russell: | Get in your mouse, and get out of here. |