Uncle Drew
(2018)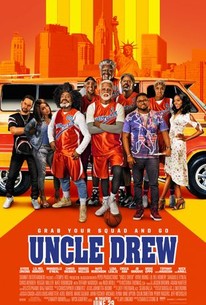 TOMATOMETER
AUDIENCE SCORE
Critic Consensus: Kyrie Irving's crossover to comedy is amiable enough to score with basketball fans, but Uncle Drew is held back by formulaic plotting and too much product placement.
Movie Info
After draining his life savings to enter a team in the Rucker Classic street ball tournament in Harlem, Dax (LilRel Howery) is dealt a series of unfortunate setbacks, including losing his team to his longtime rival (Nick Kroll). Desperate to win the tournament and the cash prize, Dax stumbles upon the man, the myth, the legend Uncle Drew (NBA All-Star Kyrie Irving) and convinces him to return to the court one more time. The two men embark on a road trip to round up Drew's old basketball squad (Shaquille O'Neal, Chris Webber, Reggie Miller, Nate Robinson, and Lisa Leslie) and prove that a group of septuagenarians can still win the big one.
Critic Reviews for Uncle Drew
Audience Reviews for Uncle Drew
If you buy a ticket to Uncle Drew you're going to get exactly what you want out of it if not a little less basketball than it needed. As expected, Lil Rel Howery makes a prominent step-up in his first post-Get Out role and balances this thing with a strong sense of comedy and necessary heart. The heavily made-up current and former NBA players are all much better in the acting department than you'd expect if only director Charles "Drumline" Stone III might have spent more time exploring these pleasant personalities on the court rather than more convenient situations the film might have had a chance at finding that balance between Space Jam and White Men Can't Jump that it seemed intent to strike.
Philip Price
Super Reviewer
Is this film for everyone? No, probably not. But I think there's at least something everyone can enjoy. It's a sports movie with a little bit of romance, comedy, and plenty of heart. So even if you're not out at your local park pretending to be Jordan or LeBron, there's plenty to be enjoyed here. I found it to be a lot like Tag from a few weeks prior. I didn't necessarily laugh out loud more than a few times (dissimilar to what my audience did at the theater), but I found myself connected to these ridiculous characters and smiling along with this wild ride. Reggie Miller and Chris Webber were surprisingly tolerable as actors, and actually pretty funny at times. Kyrie Irving did his best to co-lead a film in which he's in makeup that's "supposed to" age him 60+ years. And of course there's Shaq, who certainly improves upon the last movie I remember him leading, Kazaam. But the film only works if you buy into Lil Rey Howery as Dax, a down on his luck basketball coach who just wants to win the Rucker Park tournament one year. I could do without the Tiffany Haddish storyline, which felt like something out of a lame sitcom, but I bought into his failed basketball career and his aspirations to coach a champion. Sure, you know exactly where the film is going, but if the film succeeds in telling the story it wants to tell, it doesn't necessarily matter the route it took to get there. 6.9/10
Thomas Drufke
Super Reviewer
Uncle Drew Quotes
There are no approved quotes yet for this movie.