Undead or Alive
(2007)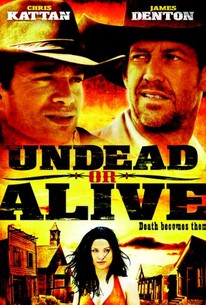 AUDIENCE SCORE
Critic Consensus: No consensus yet.
Movie Info
A soldier on the run from the union army and a lovelorn cowboy (Chris Kattan) find their flight from a corrupt old west sheriff complicated by the onslaught of a stammering horde of cannibalistic zombies in a hybrid horror comedy western from director Glasgow Phillips. Elmer Winslow (James Denton) and Luke Budd (Chris Kattan) are two misfits with no place in society. After fleecing a crooked lawman for all he's worth, these two lawless drifters discover that a mysterious plague is turning upstanding everyday people into mindless ghouls with an insatiable appetite for human flesh. As the dead begin to rise from the earth and all hope of escape from this barren wasteland begins to look as bleak as the landscape itself, the appearance of Geronimo's beautiful niece provides the pair with just the motivation needed to break free from the cold wet grip of the living dead.
Critic Reviews for Undead or Alive
All Critics (3) | Fresh (1) | Rotten (2) | DVD (3)
...undoubtedly benefits from the inspired casting of Brian Posehn as a blood-thirsty zombie.
One can't help but feel that the screenplay needed three or four more polishes before production got rolling.
If a movie has to tell you up front that it's going to be funny, it's not going to be funny.
Audience Reviews for Undead or Alive
Brian posehn is the only reason it's even semi-tolerable, if you're a budding indie film maker and you want to make a zombie movie, watch this and take notes because the whole thing is a good example of what not to do. First lesson: don't cast chris kattan.
Nay Nay Bauer
Super Reviewer
½
Miscast, horribly acted, poorly written and incompetently directed, this flick is DOa. Kudos for not skimping on the violence and a fuck you for everything else. What is it with the sudden influx of comedy-western-horror mashups?
Uneven horror/comedy (or as the makers say Zombedy) set in the old west. Annoying inserts explaining (and then happening) during the zombie attacks. Brian Posehn does get a few laughs as the 1st of the zombified, but the rest strains for giggles and groans, achieving a few.
Undead or Alive Quotes
There are no approved quotes yet for this movie.