Undefeated
(2012)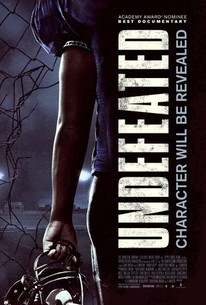 TOMATOMETER
AUDIENCE SCORE
Critic Consensus: It covers familiar sports documentary territory, but Undefeated proves there are still powerful stories to be told on the high school gridiron.
Movie Info
Set in the inner-city of Memphis, Undefeated chronicles the Manassas Tigers' 2009 football season, on and off-the-field, as they strive to win the first playoff game in the high school's 110-year history. A perennial whipping boy, in recent decades Manassas had gone so far as to sell their home games to the highest bidder, but that all changed in the spring of 2004 when Bill Courtney, a former high school football coach turned lumber salesman, volunteered to lend a hand. -- (C) Weinstein
News & Interviews for Undefeated
Critic Reviews for Undefeated
Audience Reviews for Undefeated
"Undefeated" is a highly involving documentary about the football program at Manassas High School in North Memphis, Tn. Once, it was so bad, they could hardly even win a single game, and were often paid to be the homecoming patsies for wealthier high schools. Then, along comes Bill Courtney, a local businessman, to volunteer as head coach and they start to turn things around. After a couple of years, they win four games in a season and sensing the potential a talented group of eighth graders decide to stick around instead of transferring. Four years later, of the players, even with academic problems O.C. has a chance to get an athletic scholarship to a university while Chavis has definite issues. Unlike other sports documentaries, "Undefeated" is less interested in the team winning, although admittedly there is plenty of that. What the documentary does so well is getting to the issues lying just underneath the surface that often have more to do with class than with race. With these kids, it is not so much a lack of a father but a lack of any kind of social safety net for them, as there is actually an excellent case for high school sports made here. So, it is lucky for the school district that there are dedicated volunteers like Bill Courtney who go beyond the call of duty to mentor his players. The challenges he faces begin in his opening monologue where he gives a list of the players lost to the program and why.
A coach in a depressed Memphis school inspires his players to be better people and better football players. This film is inspiring. Yes, it is full of aphorisms and simplistic half-truths, but in a tough world where truth is immutable, half-truths are good substitutes for the whole thing. It's hard to resist getting choked up when Coach Bill informs one of his players about a mysterious benefactor, and the documentary drills in concepts of character and integrity with a frequency that makes these words a happy life's song. Overall, while I can't drink the Kool-Aid without my eyes open, there's a lot to like, and the documentary effectively presents a man worth admiring in a world that is anything but admirable.
Jim Hunter
Super Reviewer
Undefeated Quotes
There are no approved quotes yet for this movie.