Sous le sable (Under the Sand)
(2001)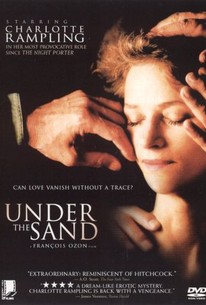 Sous le sable (Under the Sand) Photos
Movie Info
Noted French filmmaker François Ozon directs this drama about personal loss and resilience. Marie (Charlotte Rampling) is deeply in love with her husband, Jean (Bruno Cremer). One day while vacationing at the seashore, Jean disappears into the ocean. A distraught Marie notifies the authorities, but sadly, they find no trace of her beloved husband. Later, back in Paris, Marie attends a dinner party hosted by her friend Amanda (Alexandra Stewart); over the course of dinner, it emerges that Marie and Jean had been married for 25 years. Marie speaks of Jean as if he were still alive, something that disturbs Amanda's fellow dinner guests, and after she is driven home by Vincent (Jacques Nolot), another guest, Marie sees Jean in her apartment and at breakfast the next morning. It quickly becomes apparent that Marie's imagination enables her to go along in life as if nothing happened to Jean, but as she slowly becomes involved with Vincent, she begins to cope with the fact that she is in fact living on her own.
Critic Reviews for Sous le sable (Under the Sand)
Audience Reviews for Sous le sable (Under the Sand)
Beautiful and heartfelt. Another gem from the very robust French cinema industry. This is a truly moving depiction of the mourning process. Ozon does a great job.
John Ballantine
Super Reviewer
½
François Ozon's films, even those that aren't entirely successful, are always worth seeing, and Sous le Sable is certainly no exception. This is one of his "deceptively simple" films, that, like Le Refuge, explores one or two themes but in realistic, surprising and moving ways. Here, Charlotte Rampling offers a quietly impressive role as Marie, whose husband Jean goes for a swim in the sea whilst vacationing and is never seen again, apparently drowned. Marie refuses to accept that he is gone, even his physical presence, let alone his life, and thinks of him and refers to him in the present tense, her grief too awful, traumatic, impossible to 'indulge' in. Deeply complex, the film concentrates almost only on her denial and how she is able (initially) to make excuses for Jean's absence in her life, and at home when alone, imagine he is there (though 'imagine' is not strictly true - delusional is more appropriate but that word also has connotations of madness that may not apply). It's not easy viewing in any sense of the word, but Ozon is absolutely in control of all the elements and Rampling's performance, which seems perpetually on the edge of shattering, is nothing less than perfectly observed, but also restrained, understated, all in facial expressions (see also the work of Kristin Scott-Thomas and Lauren Ambrose). An extraordinary film.
Daniel Parsons
Super Reviewer
Complex drama of grief and its effects on one woman. Minimal dialogue and maximum emotional truth are on display. Charlotte Rampling is a marvel.
Sous le sable (Under the Sand) Quotes
There are no approved quotes yet for this movie.