Undercover Blues
(1993)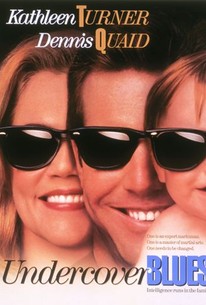 Movie Info
Nick and Nora Charles are updated to a touchy-feely couple of the 1990s who take a break from the action to raise their eleven-month-old child. Kathleen Turner and Dennis Quaid star as Jane and Jeff Blue, two CIA super-agents who have abandoned the daily grind to devote quality time to their baby but find trouble on vacation in New Orleans. First a group of muggers try to take advantage of Jeff as he walks down the street with his baby in tow. Jeff teaches the boys a humiliating lesson, but one of the creepy bad guys, Muerte (Stanley Tucci), vows revenge, and he spends the rest of the movie dogging Jeff and Jane and getting kicked in the teeth in the process. But Muerte is small potatoes compared to Novacek (Fiona Shaw), a former Czech agent. Convinced to return to work by their superiors, Jeff and Jane have to catch Novacek red-handed buying illegal explosives from a New Orleans traitor so that the government can send her back to the Czech republic.
Critic Reviews for Undercover Blues
Audience Reviews for Undercover Blues
Oh my this is pretty horrible, a really really typically bad lightweight 90's throw away comedy, if you can even call it that. This film glides across so many other ideas and its so so very pointless it hurts. The two leads are actually really annoying and you just wanna see them get killed so much haha. Quaid and Turner being top undercover agents for the US that are dragged back into service on the promise of good pay, the hook being they take their young child with them everywhere, errr yeah! great!. Cue lots and lots of lame, tame ridiculously bad looking fights with obvious doubles. Horrendous acting from everyone, a boring drab plot and a female baddie who is completely nonthreatening or even remotely interesting. The whole thing takes ques from 'Bond' naturally and is set in the deep South of New Orleans but it just doesn't work. The only reasonable part or performance goes to Tucci who plays an inept criminal trying to kill the heroes and going by the name of 'Muerte', which everyone mispronounces much to his frustration. This does garner SOME laughs, his girlish screams also amuse but that really is it. OK fun for kids, stick them in front of this for the afternoon and they might enjoy. Not advisable for any adult to attempt the full running time, its utter dribble and a waste of your life.
Phil Hubbs
Super Reviewer
A campy Mr. & Mrs. Smith meets Original Pink Panther for the 90's. Retired spies Kathleen Turner and Dennis Quaid are married on maternity leave in New Orleans and are trying to settle into normal life with a new born baby. This is fluff, pure comedy and if you go in not taking it serious delivers nothing but fun (and it's a Instant watch) The most memorable is the sort-of break-out role of Stanley Tucci at Muerte/Morty. As the cold blooded Killer who is tracking them. They thwart him effortlessly at every turn and make him rethink his occupation. Herbert Ross directed this movie as he did another favorite The Secret of My Succe$s. Although His movies vary all over the map, they always develop the main characters where no matter how different the situation you can empathize with them. The first movie I saw that he directed was Seven percent solution A mold breaking Sherlock Holmes picture in the 1970's
Bill Cavros
Super Reviewer
A cute Movie. A family who Kick A and a lot of LOLs
Undercover Blues Quotes
There are no approved quotes yet for this movie.