Underdog
(2007)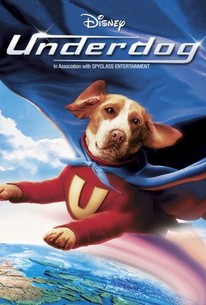 Movie Info
After an accident in the mysterious lab of maniacal scientist Dr. Simon Barsinister, an ordinary beagle unexpectedly finds himself with unimaginable powers and the ability to speak. Armed with a fetching superhero costume, Underdog vows to protect the beleaguered citizens of Capitol City and in particular one beautiful spaniel named Polly Purebread. When a sinister plot by Barsinister and his overgrown henchman Cad threatens to destroy Capitol City only Underdog can save the day.
News & Interviews for Underdog
Critic Reviews for Underdog
Audience Reviews for Underdog
its not one of the best films ive seen but its entertaining and stays faithful to the original show somewhat. Jason Lee does a good job as Underdog, but the other actors aren't very good or as entertaining except for Patrick Warburton as the dumb right hand man to Simon Bart Sinister, its such a stupid character but the jokes are so forced with this character that it is funny. I'll say it is definitely not a good film for the regular male adult or teenage demographic, but if you have a little girl, its okay.
Michael Edwards
Super Reviewer
½
Unfortunately, I was forced to watch this movie with 6 year olds. I found the plot boring and uninteresting. I day-dreamed throughout the entire movie. The dog was cute, but the film really didn't impress me.
½
It had a few adorable little addition to it's ridiculous story when it first started out, but it was brought down by it's childish slapstick humor and cheesy effects.