Underdogs (Metegol)
(2015)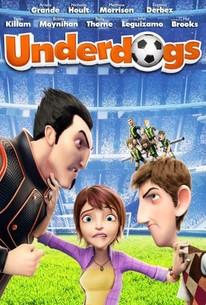 Underdogs (Metegol) Photos
Movie Info
From Academy Award (R) winning director Juan Campanella comes UNDERDOGS, an animated comedy with a little bit of magic and a whole lot of heart. Jake is a shy, but talented, foosball player. His passion for the game is rivaled only by his love for free-spirited Laura. With her encouragement, he beats the town bully, Flash, in a foosball game. But everything changes when Flash becomes the world's best soccer player and returns years later to turn their village into a new sports stadium. He starts to destroy everything and kidnaps Laura in the process. Just when it looks like all hope is lost, the toy figures from Jake's foosball table come to life! He and the players embark on a wild adventure to save Laura and reclaim their village. With the help of his team, his town, and a little bit of magic, Jake will try to save the day. (c) Weinstein
News & Interviews for Underdogs (Metegol)
Critic Reviews for Underdogs (Metegol)
Audience Reviews for Underdogs (Metegol)
½
You know, until the second half of this flick, this was right on its way to being one of the better CGi movies that's not from this side of the world. I'm not saying it was fantastic or anything, but it was pretty good. And then the second half came and fucked that up. To be honest, that's a bit of an exaggeration, but the second half really was as fairly generic and straightforward as an underdog story can be. And that's the whole point really, but I just sort of wish that the film would have found a way to keep up the first half's energy and pacing. Essentially, the story sees Jake, our hero, beat a bully at foosball when they were both in their teens. Seven years later, the bully comes back and he is the biggest soccer star in the world and he has bought the deed to the town and he wants to destroy it and build the biggest soccer stadium in order to avenge his loss. The first half of the film sees Jake trying to find back the rest of his foosball team, who have all come to life as a result of Jake's tears of having his foosball table taken away and the cafe he works at destroyed. Though, at first, only the captain of his team comes back to life, the rest of the first half sees Jake and the captain trying to find the rest of the team to help Jake against Ace, the villain. This is where the film is at its best and most manic really. The foosball team are stereotypes through and through, even down to the Italian players having the stereotypical Italian accent and the Chinese player being a doctor. It's a kid's movie, so what can you expect. But even with those stereotypes in place, I do think the film has some really inspired bits. I'd even go as far as to say that some of them are actually funny. Not like laugh out loud hilarious, but surprisingly funny nonetheless. And nothing that I can really even recall right now, but, as they happened, I found them entertaining. The second half really becomes just every other underdog sports movie you've ever seen. It gets to the point where Jake decides to challenge Ace and if Jake wins, Ace leaves without destroying the town. If Ace wins, he gets to stay and do whatever he wants with it. And it goes exactly as you would expect, Jake's team, made up of the locals, starts off getting destroyed by Ace's team, full of soccer experts, before the foosball team starts to contribute and influence the result of the game, which leads to the game being tied. Jake finds out the foosball team has been helping out and he tells them that he wants to do it his way, blah blah blah. Talk about generic. I don't wanna say it's uninspired, cause I do believe that they meant well, it just pales in comparison to everything that came before it. Realistically speaking, everything before Jake challenges Ace to a soccer match is good, everything after is average. Which is why the film gets the rating it does. The animation is surprisingly good, particularly for one of these movies. I've seen a few movies that just have dreadful animation, but those are really the minority. The majority of these films just lack life and detail. They look ok, but they won't win any awards for immersive animation, like a Pixar would. I'm not saying that this movie is even close to that, because it's not, but the animation is good enough. I like the little details in the foosball team, like there's scratches in the lead and all that. It's not amazing or anything, but I appreciated that. The voice acting (I saw the English dub), however, isn't great. There's just something about it that feels like they're talking down to kids like they're a bunch of dumbasses. And a large group of them are, I'm not denying this, but the voice acting, sometimes, left a lot to be desired. With that said, I was kinda disappointed that the movie ended up the way it did. It's basic and predictable, but the movie was actually quite entertaining at one point and it sucked to see it end the way it did. Again, I'm not saying it was bad, it just lacked the energy of the first half. So, yea, at best, this is an average flick. It's on Netflix, so there's no real harm in watching this.
Jesse Ortega
Super Reviewer
It's the Sunderland AFC of animated movies.
Marcus Woolcott
Super Reviewer
½
The worst thing to notice in this subpar animation is that, until the entertaining climax and despite being technically well made, it is a silly, unfocused adventure with annoying characters and a badly written script that seems to have no real clue of what it wants to tell.
Carlos Magalhães
Super Reviewer
Underdogs (Metegol) Quotes
There are no approved quotes yet for this movie.