The Underneath
(1995)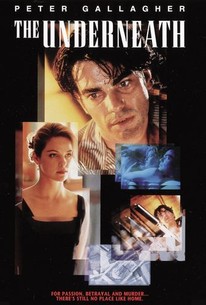 Movie Info
Director Steven Soderbergh jazzes up the 1949 Burt Lancaster film noir classic Criss Cross with elaborate flashbacks (and flash-forwards) in this tale of a collection of losers involved in an armored car robbery. Peter Gallagher stars as Michael Chambers, a man whose obsession with gambling ruined his marriage and drove him away from his home town of Austin, Texas. He returns to town to attend the wedding of his mother (Anjanette Comer) to Ed Dutton (Paul Dooley), a genial security guard who works for an armored car company. No one is very happy to see Michael return -- his brother David (Adam Trese), now a local cop, hates his guts; his ex-wife Rachel (Alison Elliott) feels no better about him. Michael wants Rachel back, but Rachel has a new lover, local nightclub owner Tommy Dundee (William Fichtner). Nevertheless, Michael hangs out at Tommy's bar to re-acquaint himself with Rachel. Gradually, Rachel warms up to him again and she invites him to spend the weekend with her. Unfortunately, Tommy is psychotically jealous and he suspects something is amiss. He follows Michael and Rachel to their rendezvous and bursts in on them. Michael, to diffuse a volatile situation, proposes an armored car heist with Tommy and Rachel. After that, the double-crossings and back-stabbings begin.
Critic Reviews for The Underneath
Audience Reviews for The Underneath
Ed Dutton: Michael, when you get to be my age you realize that sometimes the planets just don't line up. And there's nothing you can do about it.  "For passion, betrayal and murder... there's still no place like home." First off, I haven't seen Criss Cross, so I'm judging this movie based only on itself. It's definitely my least favorite film from Soderbergh. The acting is bad and the dialogue is also horrible. Peter Gallagher, while by no means a terrible actor, just can't hold a movie like this up by himself. William Fitchner is good in his role, but it is still to small to make the movie any better for it. The worst acting comes from two women though, Elizabeth Shue and Alison Elliot. They made ever scene that they were in unbearable to watch. Michael returns home because his mom is getting remarried. His new stepdad offers to help him get a job as an armored truck driver. It is pretty obvious what is going to happen from here. He's going to try to pull off a robbery. Along the way, he tries to rekindle his relationship with his ex-wife, who is now married to a crook. The only saving grace in this film, is Soderbergh's cool little tricks that you see in all his movies. In the end, it isn't enough to save an overall worthless film. The movie meanders on at an amazingly boring rate for an hour and then decides to speed up for the last thirty. Then the plot gets all twisty and it just doesn't work. I didn't buy the ending at all. Still, it's worth a look if you are a Soderbergh fan. If not, this definitely isn't going to make you one. It would probably just turn you against him more.
Melvin White
Super Reviewer
Solid Film Noir from Soderbergh, using some unique camera techniques.
Anthony Valletta
Super Reviewer
A not-so-bad remake of an excellent film noir. If you're a Soderbergh fan, it might do something for you, but if not, seek out the original, Criss Cross.
The Underneath Quotes
There are no approved quotes yet for this movie.