Undersea Kingdom
(1936)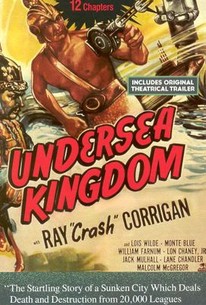 AUDIENCE SCORE
Critic Consensus: No consensus yet.
Movie Info
Directed by B. Reeves Eason and former editor Joseph Kane, this Flash Gordon imitation was the second serial from a then newcomer in the field, Republic Pictures. Actually, it was only the Republic Eagle trademark that was new; Undersea Kingdom was produced by Nat Levine, formerly of Mascot Pictures, a serial kingdom all its own which had been incorporated into Republic in 1935, lock, stock, and Gene Autry. Not to be outdone by Universal's blond superhero, Undersea Kingdom had Ray "Crash" Corrigan, crash-helmet and all, diving into the ocean in a fantastic super submarine. Corrigan and his passengers -- Professor Norton (C. Montague Shaw), the professor's young son (Lee van Atta), brash newspaperwoman Diana Compton (Lois Wilde), and a couple of sailors -- are headed toward the legendary sunken continent of Atlantis. Upon arrival, the surface people discover that the recent rash of undersea earthquakes are the work of Unga Khan (Monte Blue), the leader of the evil Black Robes whose nefarious goal is to destroy America. Unga Khan's kingdom proves to be a mixture of science-fiction gadgetry and medieval derring-do, both the Black Robes and their enemy, the White Robes, dressed like something out of a Wagnerian nightmare. The surface people ally themselves with the White Robes and in the 12th and final chapter, "Ascent to the Upperworld," Corrigan et al. finally manage to rid both worlds of the evil Khan. Republic threw everything but the kitchen sink at the Saturday matinee crowd this time around, including such veteran action and Western players as William Farnum, Raymond Hatton, Smiley Burnette, Lon Chaney Jr., Lane Chandler, Malcolm McGregor, and John Merton. Undersea Kingdom also employed most of the stunt men whose work would eventually help make Republic the pride of Poverty Row: Eddie Parker, Al Seymour, George de Normand, Tom Steele, and the Yrigoyen brothers, Bill and Joe. Undersea Kingdom was also released in an edited feature version, retitled Sharrad of Atlantis.
Critic Reviews for Undersea Kingdom
There are no critic reviews yet for Undersea Kingdom. Keep checking Rotten Tomatoes for updates!
Audience Reviews for Undersea Kingdom
½
OMG What an absolute classic. I could watch these again and again....
Barry Lappin
Super Reviewer
Undersea Kingdom Quotes
There are no approved quotes yet for this movie.