Undertaking Betty
(2003)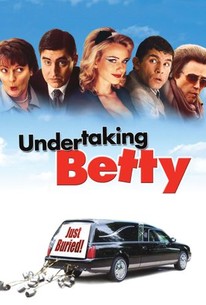 Movie Info
Boris Plotz, Director of the Plotz Funeral Home, dreamed of only two things as a young boy: dancing and Betty. Betty secretly loved Boris, but could not find her father's wishes, so she was married off to a gold digger. Boris gave up his dreams and took over the family's undertaking business in their small town. Everything has remained status quo in their lives until Betty's mother-in-law dies. Boris and Betty are thrust together again and as they discuss the funeral arrangements for Betty's mother-in-law, the old spark is re-kindled. Her funeral will be held at Plotz Funeral Homes, much to the chagrin of the funeral director, Frank Featherbed. An America, Featherbed is determined to revolutionize the undertaking business in Whales through the innovation of "theme" funerals. Betty and Boris discover that the only obstacle between their love for one another is Betty's marriage to the two-timing mayor. In a desperate Bid for Happiness, Boris and Betty decide to stage her death and run away together. Meanwhile Featherbed is holding his first funeral--done much to the surprise of the bereaved, in a Star Trek theme. During the service, Featherbed's assistant operates the special effects that produce smoke and music. However, when he pushed the switch that raises the coffin for the "beamed up" effect, the switch sticks and the coffin breaks through the roof! Boris pursues the plan for faking Betty's death by enlisting the help of the town doctor. But still, nothing goes as planned, and so the comedy begins.
Critic Reviews for Undertaking Betty
Audience Reviews for Undertaking Betty
I think everybody in the cast is very talented, I really do. And they sure as shit try their best to make this film work but I think the script is pretty terrible. The script isn't really worried about characters as much as it is worried about making sure that there are silly hi-jinks for the characters to get into. It had the potential to be a sweet yet dark romantic comedy, but it didn't work. The problem is, the writing in the film feels like it's straight off a sitcom. And not a very good one at that. This is where the cast comes in and really saves the day. That's not to say that they make the movie good, but they at least make it far better than it had any right to be with this shitty script. While I don't think the movie's decent, they do salvage the film in some ways. The movie has its funny moments. The funniest being Christopher Walken in his delivery of a line after a short sequence where nobody could finish a sentence. I don't think this line would've been funny if done by anybody else other than Christopher Walken. Because it really isn't a funny line and it probably didn't read as funny on paper either, but Walken makes it work. Hell, he's probably the only interesting character in the entire film with his trying to make the business of undertaking far more entertaining. The rest of the characters are fine but severely underdeveloped. The problem with the romance between Boris and Betty is that the only reason they're "attracted" to each other is that they didn't get to share a dance at a school party when they were in their teens. That's literally ALL there is to their love. Is that really reason enough to fall in love with someone? It's clear I'm over-analyzing things, as I tend to do, since I'm sure I was supposed to fill in the cracks on my own, but it's still a little silly when all the movie presents is that they never danced with each other and, apparently, that was supposed to be enough to show how much in love they were. That's not enough for me. Really, at worst, the movie is a series of unfortunate, and contrived, events without a rhyme or reason other than it's just goofy. At best, it's a shitty script that is elevated slightly by its cast, even if they can't work miracles with a script that seems to have barely made it out of the first draft stage.
Jesse Ortega
Super Reviewer
Here's an interesting movie that follows two individuals whom have loved each other for many years, and one day Boris's love interest decides to take matters into her hands and fake her own death so that she could be with Boris. Fascinating story plot that is filled with some intriguing sense-of-humor. Great cast- Alfred Molina, Brenda Blethyn, Christopher Walken, and Naomi Watts. Worth seeing!
½
A quirky, charming comedy. Highly recommend.
FanGirl Browncoat
Super Reviewer
Undertaking Betty Quotes
There are no approved quotes yet for this movie.