Undisputed
(2002)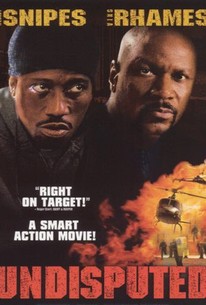 TOMATOMETER
AUDIENCE SCORE
Critic Consensus: While not the deepest boxing movie out there, Undisputed is successful at hitting its aspiration of being nothing more than a genre picture.
Movie Info
Director and screenwriter Walter Hill returns to one of his favorite themes -- desperate and violent men using force to escape from an unforgiving environment -- in this action drama set behind bars. Monroe Hutchen (Wesley Snipes) was once a promising heavyweight contender until he was convicted of murder and sentenced to life without parole at the Sweetwater maximum security prison in California. Now, Hutchen boxes behind bars, and he's become the champion of a loosely organized prison fighting circuit. When heavyweight champion James "Iceman" Chambers (Ving Rhames) enters Sweetwater after being convicted of rape, Hutchens finds the serious competitor in the same lockup for the first time, though Chambers scoffs at the jailhouse champ. After Hutchens challenges the arrogant Chambers to a bout, aging mafioso Emmanuel "Mendy" Ripstein (Peter Falk) swings a deal that will earn Chambers an early release from prison and pull in a million dollars in bets from guards and inmates if the two men will meet in the ring for a last-man-standing bout without referees. Undisputed also features Michael Rooker, Fisher Stevens, rapper Master P, and former Yo! MTV Raps host Ed Lover.
Critic Reviews for Undisputed
Audience Reviews for Undisputed
The Mike Tyson story this could be, Mr Chambers (Rhames) goes to jail for an accusation of rape and becomes an even bigger media typhoon than he was before. At first I didn't think much of the film to be honest, it was cliched and kinda boring really plus Rhames as 'Chambers' was an annoying character who you wanted to see beaten. I soon discovered that my feelings towards Chambers actually fuelled my enjoyment as the film continues and Snipes character 'Monroe' comes into play. The tense build up between the two up to the obvious finale does get you going. Lets not get over excited here this is your typical 'Rocky-ish' story with all the usual characters, dialog and scenes, not original but a good beat em up when the fists fly. The final fight is well done and you do feel the blows as Snipes and Rhames match up and sweat over each other, I'm pretty sure Rhames would win in a real fight though as he looks pretty darn solid.
Phil Hubbs
Super Reviewer
A solid prison drama with strong performances by Wesley Snipes and Ving Rhames, but the film lacks in any form of human emotion or character study and just leaves a dark shell that isn't totally filled and makes you feel unsatisfied. But it's not to say it isn't well-crafted from it's director, Walter Hill. It also has one of the best boxing showdowns shown in a film since the original Rocky and Raging Bull.
Not a film that holds your attention well. Overacted, over the top on the fight sound effects, hugely energetic fighting for a heavyweight fight. You really are not missing out on anything by skipping this film.
Lady D'arbanville
Super Reviewer
Undisputed Quotes
| | |
| --- | --- |
| Monroe Hutchens: | He's a fighter, I'm a fighter, if I'm better on that day, I win. That's just the way it goes. Someday, every fighter loses. Sooner or later, somebody comes along and they got your ticket. Too old, just wasn't your day, whatever the reason is. In the end, everybody gets beaten. The most you can hope for is that you stay on top a while. Be the best. |