Une Vieille Maîtresse (The Last Mistress) (An Old Mistress)
(2007)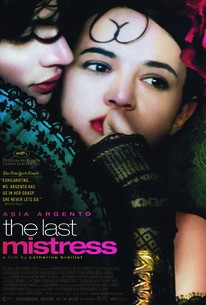 TOMATOMETER
AUDIENCE SCORE
Critic Consensus: More complicated than your average bodice ripper, Catherine Breillat's Last Mistress features beautiful costumes, wrought romances, and a feral performance from Argento.
Une Vieille Maîtresse (The Last Mistress) (An Old Mistress) Photos
Movie Info
Catherine Breillat's adaptation of An Old Mistress stars Fu'ad Ait Aatou as Ryno de Marigny, and Asia Argento as Vellini, two lovers in 19th century Paris. The two have been passionately involved for nearly a decade, but de Marigny attempts to end their relationship now that he is engaged to Hermangarde (Roxane Mesquida), a respectable young woman. As the bride-to-be's grandmother forces de Marigny to confront his past as a notorious womanizer, the film flashes back to reveal the intense decade the lovers shared. Although de Marigny appears to want to shut Vellini out forever, her passions may be far too much for him to deny. ~ Perry Seibert, Rovi
Critic Reviews for Une Vieille Maîtresse (The Last Mistress) (An Old Mistress)
Audience Reviews for Une Vieille Maîtresse (The Last Mistress) (An Old Mistress)
Although the period detail is beautiful I just wasn't drawn in by the plot or the characters. It's a shame as I liked the sound of it so much.
"the last mistress" is the work of art from the director who's made "romance", catherine breillat, and it's much more reserved and polished due to its backset time-scale than breillant's any other sensationalistic piece. frankly, as a fervent feministic provocateur, breillant has always been a little bit too politically contrived on the bedroom matters when she seals her relentlessly cynic mockeries to genders and marital legimacy. somehow that characteristic spoils the genuine artistic success she may have ever had. "the last mistress" is another achetypical example of her radical viewpoint which is also very avant-gardistly cliched: sex, the physical desire could override any santuary reverence men have over innocence, purity and the institution of marriage, no matter how much you may love a person, but you still listen to your genital down below at any cost, you may feel agonic and very much in pain but you just cannot help it, so women're better off without the bondage of men, be the dominatrix who masters over men.....come on, tell or advocate me something which i haven't heard or read in these three decades of feministic movements. in a nutshell, the tale goes like this: a penniless libertine swoons a beautiful chaste woman of higher birth, the jewel of french aristocracy, but he has a hard time terminating his 10 year affair with a wild gypsy-like she-devil, a seed of illegitimate union(princess and matador). the male libertine deserts his mistress for the virginal lily, and he believes he's whole-heartedly in love, then this gluttonish she-devil traces him to his newlywed chateau to re-kindle their illict sparkle. then the man succumbs...later, his wife discovers then has a miscarriage by broken-heart. eventually the libertine has ruined the happiness of his precious wife as everyone predicts. the classic quotation here would be "in love, the first to suffer has lost".... undoubtedly, the she-devil is played by the notably spunky italian actress asia argento who's been taking roles of brave indiscreet women since the 90s, her smashing performance in 1998 "b monkey",,,then her role is always tough woman-rebel or daredevil whore...i've always been amazed by her gritty beauty, and i've never found any character she performed abrasive despite the inevitably repeated typecasting until the moment after i watched "the last mistress"...her interpretion is fine and perhaps argento is the only actress who could render this role due to her winsome features which are literily designed for this role. but i've got to admit, asia argento's no longer the same fresh-faced ingenuine who toys between reckless seductiveness and brittle naivete that i saw 10 years ago in her american debute "b monkey"...she's upgraded into a more spiteful lilith-like being who ruminates and devours in full masterful manipulation in catherine breillant's "the last mistress" which definitely decreases her likability.(or she just ain't that gorgeous as she was in 1998?) the castings of the leads are absolutely a gallery of striking fair youth, and the male protagonist has a pair of juicy smackable lips, eyes of sheer transparent blue, and skin made of milky streaks of porcelain, same for the blonde-haired woman-protagonist, so statuesque like people who stride out of europe's classical paintings. somehow that makes the setting even more peculiar and oddly persuasive, accompanied by such cherishable beauty, you would still like to cheat with a third party who may not rival your wife? perhaps the ignition of lust could surpass any romantic sentimentality you've been deeply inspired. the director's camera frame has manifested well on that by a shot of the man's wedding ring and the illict woman's snake-shaped bracelet. this movie's made with some refinement which surprises me since it's done by the same brazen woman who chooses to bare a vaginal frontal scene and have his lead woman sex with a real porn actor in "romance"...but honestly i'm still deeply annoyed by her sexual politics in this latest movie of hers. why, as a woman, she has to be so tremendously selfish just for the sake of shameless unbridled freedom even it would cause pain to others??? it even features one scene where argento's character smirks at the cornered seat of church when the man's wedding is to be proceed on with some drab bliblical admonisments for marital virtues on women as if she lures the man just to defy church out of taunting contempt...would she care the other party which's never done any damage to her? personally if that's the necessary attitude to pronounce your feminist right, it's better to have no part of it when your blissful emancipation has to be built by the sacrifice of those irrelevant people. wouldn't woman, in this case, just descends into the accomplice of man to wreck other woman's life?
Veronique Kwak
Super Reviewer
½
from a plot standpoint, we've seen this one before -- it's reminiscent of 'dangerous liaisons' and 'dangerous beauty.' the story line is framed by a chorus of mediocrity. what sparks and differentiates this film is argento's performance. she is purely and unapolegetically carnal. she is like a mix of frida khalo's masculinity and cleopatra's seductress. i'm not sure how much of this character is acted, but it is quintessentially asia argento.
Stefanie C
Super Reviewer
Une Vieille Maîtresse (The Last Mistress) (An Old Mistress) Quotes
There are no approved quotes yet for this movie.