Unfinished Business
(2015)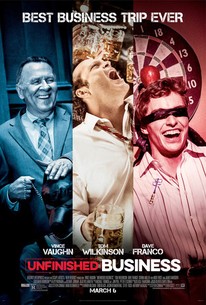 TOMATOMETER
AUDIENCE SCORE
Critic Consensus: Unfocused and unfunny, Unfinished Business lives down to its title with a slipshod screenplay and poorly directed performances that would have been better left unreleased.
Unfinished Business Photos
Movie Info
A hard-working small business owner (Vince Vaughn) and his two associates (Tom Wilkinson, Dave Franco) travel to Europe to close the most important deal of their lives. But what began as a routine business trip goes off the rails in every imaginable - and unimaginable - way, including unplanned stops at a massive sex fetish event and a global economic summit. (c) Fox
News & Interviews for Unfinished Business
Critic Reviews for Unfinished Business
Audience Reviews for Unfinished Business
Considering the talent on offer, this is a disappointment. Treat it like a great fantasy football team, having a great team won't mean victory. This sadly has tiresome jokes, and a central storyline that is lacking and often mean spirited. I'm a huge Vince Vaughn fan and he is not fitting for this film, which is a hard thing for me to say. The screenplay could be the central issue or the filmmaker, I'm just unsure what happened here. The tone is way off. I can't salvage any true comments or recommendations here, but at least it ends nicely. 28/01/2019.
Brendan O'Connor
Super Reviewer
I laughed at a couple bits but most of it was just dumb humour, not funny humour but really really dumb humour. Really raunchy humour. I like Vince Vaughn but he makes a lot of dumb comedies. "Dodgeball" was ok and so was "Wedding Crashers" but most of his movies are just dumb.
Jim Pasier
Super Reviewer
Never have I asked myself, so early in a review, why a film exists. Like I watched this movie and I was asking myself, 'who is this meant for and why would they like it?' Look, I'll say this right out of the gate, this isn't not the worst comedy I've ever seen, it's still one of this year's worst, but it's not the worst I've ever seen. But I just can't, for the life of me, think of one good reason why this film needs to exist. Of course, this is like a tiny drop of water in the vastness that are films, so it's not like anyone will actually remember this film within, say, the year's end. I'm still genuinely curious what the thought was behind the production of this film. Did the people behind this movie look at the footage being filmed and did they think 'we have a winner on our hands'? They couldn't have possibly thought this at any point of the filming of the film. It's not that the film is bad, it's just that it pretty much goes nowhere right from the start, despite the fact that it's all about these three travelling and a having "raunchy" good time in Germany. But what is the reason behind it? Not that I'm asking to be emotionally invested in these characters, but at least give me one reason to care. Oh, Dan's going through some rough times financially and he's having to deal with some issues his kids are dealing with. Yawn. That's simply not enough, particularly when it could be used to describe a bunch of films with similar characters. The only character with one hint of an interesting background would have to be Timothy's character. He's been in a loveless marriage and he wants to get out of it, so he can be happy and truly live again. I think that's something that a lot of people, particularly those that are older, can relate to. Whether they married young or were concentrated on work, they just never got to live it up because of one thing or another. As mentioned, it's something that's easy to relate to, but they do next to nothing with it. They do pretty much exactly what you would expect from them. There's no thought put behind it, it's all laziness. And what can be said about Mike? The sweet retard. There's no other way to describe him, that's where they were guiding you. I know Vince Vaughn has been in a lot of shitty movies, like an inordinate amount, right, but I genuinely think the guy has, when he's feeling inspired or he has a great script, some great comedic timing and delivery. I genuinely think that. You may not have seen that side of him in years, it seems, but I think the guy has talent as a comedic actor. It's just that he spends a lot of his time lending his talents to substandard and generic comedies that he's simply not that inspired to be in. And the latter is all his fault, I am completely aware of this. The fact of the matter is that the mark of a great actor, comedic OR dramatic, is that the person gives it his/her all regardless of whether or not they want to be there or whether they feel that the material isn't up to snuff. And the thing is, the film has a good supporting cast, so you'd think they could do more with that. But the truth is that they can't. I like Dave Franco, I like Tom Wilkinson, I like James Marsden and I like Nick Frost but the fact of the matter is that they're simply wasted here. A few chuckles aren't enough. The more I think about it, the more this seems like a paid vacation to Germany where you could legally smoke pot and have sex with prostitutes in the red light district. This isn't a funny movie. And despite giving off the appearance of a fun time, it's really not. I wish films would stop pretending that showing us characters having fun partying, having sex, etc while playing pop music instantly makes a film more fun than it is, because that is a fallacy. I'm not even certain why I'm giving this 1 star. A few chuckles and a wasted talented cast does not make this a 1 star film. I'm gonna be nice to it, though, and leave the rating as is. Just know that this is a pretty goddamn bad movie. Might not have been worse than I imagined, but it was close. It's, clearly, not worth recommending and it should be avoided at all costs.
Jesse Ortega
Super Reviewer
Unfinished Business Quotes
There are no approved quotes yet for this movie.